Juice Fasting Plan (All things Juicing)
After I did my 25-day juice fast in March, a lot of you were really interested. Even now, months later I still get questions about my juice fasting plan and what all I did. In fact, when people Google "how to juice fast" a lot of them end up here.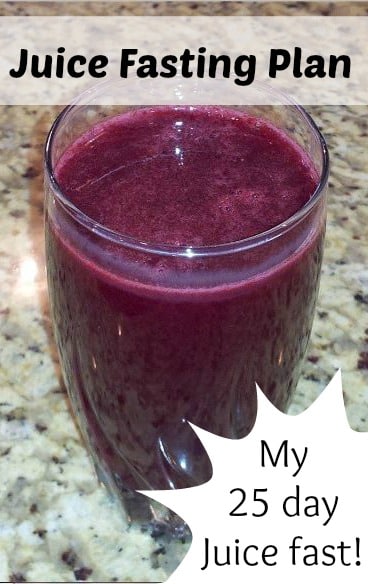 Everyone is unique, and each person will respond differently when juicing. Below I am just sharing what I did, and where I found my resources. There will be a lot of info packed into this post, so I suggest you pin it or bookmark it for later reference as well.
I was inspired to start juicing when one of my favorite bloggers published her book: Tugboat: My Voyage out of Obesity.  Inspired by her results I then discovered the site Reboot with Joe. Most of my info came from there.
When you are juicing, you should consider an actual juicer. A blender or Vitamix will give different results than a juicer. Here is a better explanation: Can I use my blender?  If you do decide on a juicer, you can read my review of the one I use here.
Next, you are going to want a juice fasting plan. If you don't plan, chances are you won't continue with your juice diet and will fall back into your old, unhealthy eating habits.  You can find a reboot and a juice fasting plan at Reboot with Joe.
My 25-day juice fasting plan:
What I did was start with the menu from the 15-day reboot, found on the Reboot with Joe site. For five days I ate and drank nothing but fruits and veggies. I feel this made my transition to just liquids much easier because I had already cut out meat, grains, and dairy. After that, I went to just juice for 20 days.
When you are juicing, what do you need besides a juicer? You will want recipes. I tried just tossing stuff in my juicer, but it didn't always turn out so well that way. Here is my favorite juicing recipe, and a list of 25 different juice recipes that I put together.  Again, you can find great ideas on Reboot with Joe as well.
Try different recipes and different combinations. If you drink a juice and don't feel well afterward, take note of what was in the juice, you may have to avoid or use less of some items. I love garlic and onion, but they upset my stomach in juices. This problem was fixed by eliminating them entirely for some recipes and using only a small amount in others.  Listen to your body and your results will be better.  Remember to drink lots of water during this time.
While you are just juicing, your digestive system will go to sleep, per se. By removing the insoluble fiber, your body is able to directly absorb the nutrients from your juice. (If you normally take vitamins, you will not need them during this time.)  Because there is nothing solid going in, there will be no need for anything solid coming out. It is normal and ok to go a couple days or more without a BM while juicing.
Once you have reached the end of the time you plan to juice, here are some things to consider. The ugly nasty plaque that coats the inside of your colon walls, will have had time to soften and if you end your juice fast right, you will actually go through a second detox.

Warning! Do not end your juice fast and start eating dairy, meats, and grains right away. It will make you sick. The sudden intake of more complex foods will cause diarrhea, and the gunk in your gut will not be passed, but instead, your body will try absorbing it. This will cause you to feel very yucky, tired, and sick.
Ending my juice fasting plan went like this: My first day off all liquids: I had a large garden salad with a basil tomato vinaigrette dressing and whole fruits. The next 5 days were similar to that. Lots of fruits and veggies with the needed fibers. I also continued with one juice a day for about 3 weeks after I officially quit juicing. This way, my gut cleaned itself and passed all the toxic buildup.
After that, I slowly added in eggs and dairy, then gluten-free grains and finally, added in meats and gluten.
Some are concerned about the cost of juicing. I break that down for you in What does it cost to juice fast?
Now for all the disclaimers. 🙂  Pregnant or nursing mommies should not juice fast, you don't want baby getting your toxins.   This is the juice fasting plan that worked for me, I am not a doctor or licensed to give medical advice. As I stated earlier, everyone will react a bit differently, so you should talk to your doctor first.
I juiced for 2 reasons. To feel better and lose weight. I was 30# overweight and lost 15 while juicing. Weight loss = Happy Kendra! If you would like to read more about my juice fasting plan, you can find the first post here: Finding the Reset Button for Healthy Living.
Studies have shown you will also enjoy these posts!