Gluten Free Baking ~Gluten Free Apple Crisp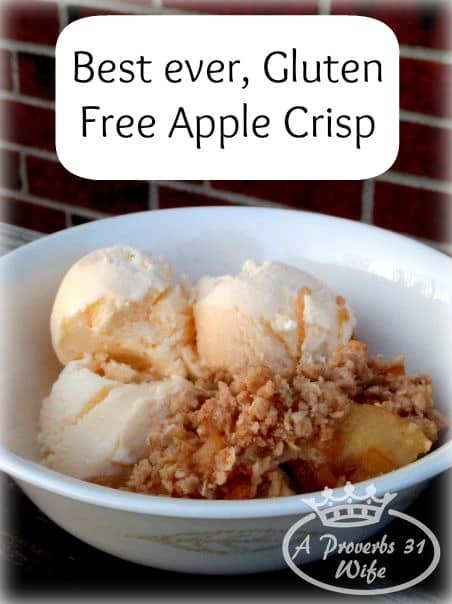 For those of you who must provide gluten free baking for your family, I have a great recipe for you today! Or rather, our Mary and Martha consultant, Jane Martin does. 🙂
Gluten Free Baking: Apple Crisp Style!
At church on Sunday, I found out that we were having 23 guests for supper!
I wanted to be able to have a good evening with a full house, full tummies and lots of fellowship!  If you remember, my easy recipe posts go with the Mary & Martha theme of serving simply.  So, I made one of my favorite quickie dishes! Apple Crisp!
Even though it's gluten free, my apple crisp is anything but taste free!
Earlier this year my daughter and I had canned apple pie filling, so I used that on the bottom and then added the crumb topping.  If you don't can apple pie filling, that's okay. Just use two 32 ounce cans of your favorite gluten-free apple pie filling (or you could use this recipe here).
Served with vanilla ice cream and some hot coffee, it was a wonderful evening of talking, laughing, and sharing with friends!  Sweet, and noisy! 🙂
Recipe for Gluten Free Apple Crisp:
1 quart (or 2 23 oz cans) apple pie filling
1 1/2 cup quick oats
1/2 cup brown sugar
1/2 cup rice flour
2/3 cup softened butter
Pour your pie filling in the bottom of a 9×9 pan. Mix together the remaining ingredients with a fork and toss until well mixed and crumbly. Spread crumbs over the apple pie filling.  Bake at 350 for 30 minutes. Enjoy!
I also created a video to go with this post. I've never done a video before, so please be nice. 🙂 Kendra has kindly uploaded it to her you-tube channel and it can be found here.
Do you love the theme of Mary and Martha? "Meaningful entertaining made simple". Spending time with your friends shouldn't be hard or take a lot of time and at Mary and Martha we try to focus on that.
From beautiful scripture decor that can give your home a welcoming atmosphere, to beautiful serving dishes, and our new line of disposables, we are doing our best to help you have the best time with your friends and family.
For more simple recipes check out my taco soup recipe, or my delicious sopapilla cheese cake recipe.
Kendra here:  Hey guys, don't you just love Jane? Or maybe it's the Mary and Martha company you are in love with. 😉 I am a huge fan of their products and like to add to my collection of home decor products, as our budget permits.
If you enjoyed "Gluten Free Apple Crisp"
You may also enjoy the following posts!