Cost to Juice Fast ~A Quick Look at My Expenses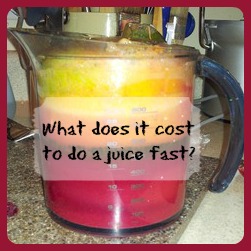 What does it cost to juice fast? I'm nearing the end of my juice fast, and since it's also the end of the month I was making sure all my accounts looked good. I thought I would share with you how much it cost to juice fast. As close as I can figure anyway. 🙂
Your first cost would be a juicer. My (ad) Breville Juice Fountain cost me $99. You can read my full review of it here where I share how to get the most out of your juicer. You could pay anywhere from $50, to $400 or more. Keep in mind when you are choosing a juicer, you want one that will last.
Your next cost would obviously be fruits and vegetables. When I looked at my spending, I see that I spent around $700 this month on groceries. A bit shocking, yes? Now, my normal monthly spending as far as groceries go would be right around $300. So, I'm going to say I spent $400 extra on groceries this month.
Some things to take into consideration when you are thinking about the cost of juice fast:
 What time of year is it? Where I live, there just wasn't a whole lot of stuff in season. Were I to have done a juice fast in the summer, I know my cost would've been at least $100 less.
What fruits and veggies do you like? It seemed that every juice I really liked called for the out of season expensive produce.
Organics. I did not buy organics if you can I suggest you do. Instead, I spent a lot of time peeling everything I could (tomatoes peel too!) and then a bit more time using a veggie wash to rinse my leafy greens and everything else that I couldn't peel.
How many people will be juicing? Here it was just me, but hubby tasted and even drank quite a bit as well.
Things that I have no idea how to figure in: electric to run your juicer, water to rinse your veggies and gas spent driving to the store. (I went about every 5 days)
Ways a juice fast can help you save money.
No vitamins. I take a pack of vitamins 2x a day normally. They are something I wouldn't be without. My energy levels are always better and my immune system is great. But, on a juice fast, you do not need to take your vitamins, (if you have problems with constipation, you may want to add a probiotic) the fruits and veggies will give your body straight nutrients that are even better than the best vitamins out there! $$$ saved? $40.
Better health. I really cannot put a $$$ sign to this one. Dr visits, meds, sick days… Good health is invaluable.
No eating out, or coffee. We seem to eat out at a nice restaurant at least once a month ($35) and fast food ($12) can be as often as once a week. Plus Speedway coffee and random times when I'm out and about and feel hungry ($10-35). Total saved on eating out? At least $110.
So, my total spent on juicer and food: Approximately $500. Total saved: $150 +Better Health. The total cost to juice fast the first month: $350.
I'm going to break that down a bit more. I spent $250 on food (the other $100 was the juicer) I juiced or ate raw for 28 days this month. Figuring three meals a day would be 84 meals in total. Now, divide the $250 spent on produce by 84 meals. $2.97 a meal! You cannot eat out for that cost, and sometimes, you cannot cook for that cost. The total cost to juice fast per day $8.92.
So what is the true cost to juice fast? In my book, it's priceless!
~Update on my juice fast. Starting Sunday I will be slowly adding whole fruits and vegetables to my diet. Sunday is potluck Sunday at church so I plan to bring a big greens salad and I will eat that. Eating a plate of salad doesn't look near as odd as drinking green juice out of a mason jar! Most likely I will continue eating just fruits and veggies for another week possibly adding in dairy and maybe quinoa towards the end of the week.
Total lost so far is still 15 pounds. Putting me at 146, I would still love to get back to 130 where I was when we were married, but that most likely will not happen. Anyway I am quite happy with what I've lost and I feel very good about myself. ~



Disclaimer: You are responsible for your own health choices, and this is not recommended for pregnant or nursing women.