Wake up to a Clean House Every Morning by Doing This!
Most evenings I'm exhausted. By the time supper is over and baby in bed I don't want to do anything but veg on the couch, or better yet, just go to bed. But if I do that, I have to deal with a messy house in the morning before I can even officially start a new day.
I wake up to a clean house every morning with these three little tricks. No, I don't have a cleaning fairy, or friendly little house trolls who help me out, but just an hour of work can make a huge difference to my house.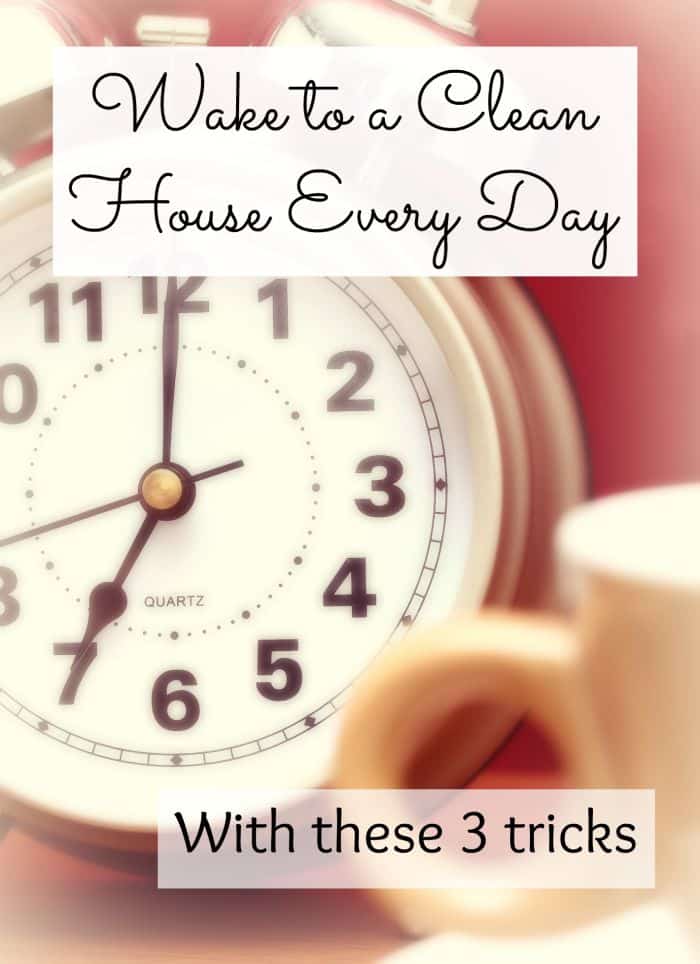 How I Wake up to a Clean House Every Morning
First of all, let's clarify. By clean, I mean clean-looking.
If you were to run your finger along any flat surface in my house you will likely find dust. And if you look in the corners of my ceiling, you will find cobwebs. If you sit on my couches, you will likely have a few cat hair stuck to you.
However, I can walk through my house in the dark without stepping on toys or tripping over clothes, and I can walk into my kitchen and begin making breakfast without first needing to wash dishes.
If you come to my front door, you will think my house is clean. Just go right on thinking that!
Clean often has more to do with perspective than an actual absence of dirt. 🙂
Clean House tip #1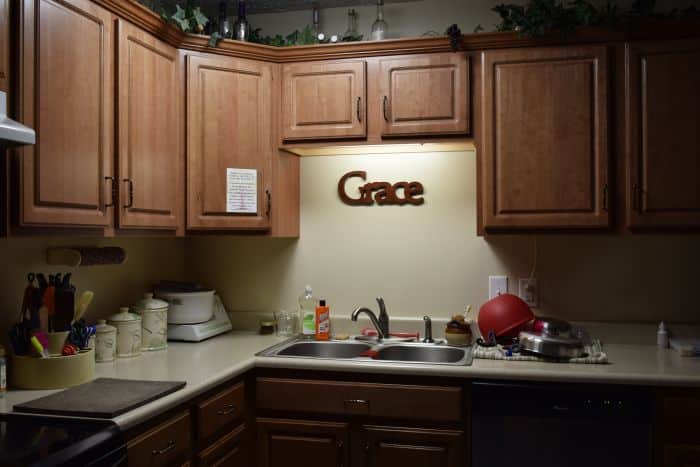 The kitchen is often the central area of a home and ours is no different. If nothing else happens, having my kitchen clean before going to bed is very important.
There's a couple of reasons my kitchen gets top priority. I cook from scratch which means many dirty pots and pans, however I have few pots and pans due to a small home and those pans need to be clean before the next meal.
The dishwasher needs washed every evening or we will run out of lunch containers. Jason and I both pack lunches and those containers need to be clean.
And finally, due to the small size of our kitchen, dirty dishes mean full counters and we need the counter space to pack our lunches in the morning.
After dinner, I load the dishwasher and get it running, then I wash the rest of my dishes, leaving them to dry on the counter. Putting them away in the morning takes very little time. I wash the table and counter tops and the kitchen is done. Even on the worst nights I'm typically done in the kitchen within 30 minutes.
Clean House Tip #2
Pick up those Toys.  We typically have Kolton help pick up his toys, but some nights it gets late and he's a mess so I do it after he's in bed. Just having the toys confined to a certain area helps tremendously.
From the time your child is very small, have them help or watch you pick up toys. By age 2 they can be largely responsible for picking up their toys each night. (1 of my little brothers was 1 1/5, the other 1 was a good 2. Kolton is still too easily distracted to do any of it alone.)
If any of the children have dirty clothes or shoes in the main area, assist them in putting them away. We typically have to round-up shoes as well.
Total time to clean up toys and clothes/shoes: 10 min on average.
Clean House Tip #3
Honestly, if the kitchen is cleaned and the toys and dirty laundry is picked up, your house already looks 10x better. But I have just one more thing I do, and it's a bit of an ocd thing, but it works.
Eliminate Piles. Piles of papers, piles of clothing, piles of stuff. I'm not saying everything has to be put away. To be honest, there are times when putting stuff away is impractically because I will be getting it right back out the next day. And sometimes that laundry is just too much to do that night.
This is why I like stacks.
Stacks look organized and when I have books or papers that I'm keeping out for certain purposes, I stack them up. Clean laundry stays in laundry baskets and I line the baskets up or stack them if I'm not concerned about wrinkles.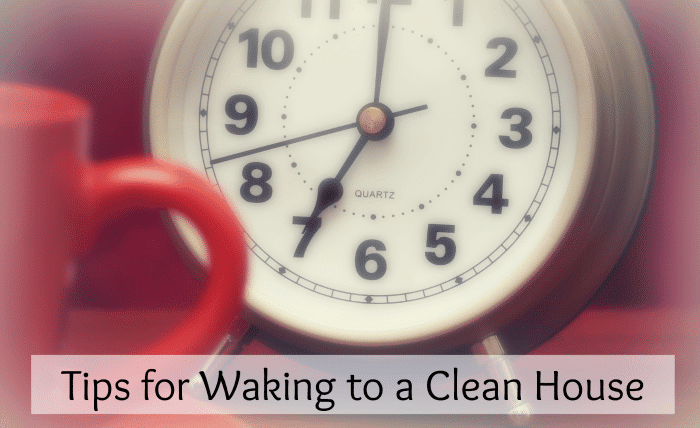 It's nothing huge and it's all done within an hour. This typically leaves me time to blog or just relax and do something for myself. Okay, who am I kidding? I blog lol.
Since I have to leave for work early in the morning, I don't have time to do any housework before I walk out the door.  Having a decently clean-looking house when I come home is very nice. And on the random days I'm off work, I don't need to play catch-up before I can get started on the day's list of chores!
Just like creating a welcoming home, creating a clean house to wake up in, takes very little time if you make a daily habit of it. Just a few simple habits can make a huge difference!
Do you have any tricks to wake up to a clean house?