15 Signs that You are Crunchy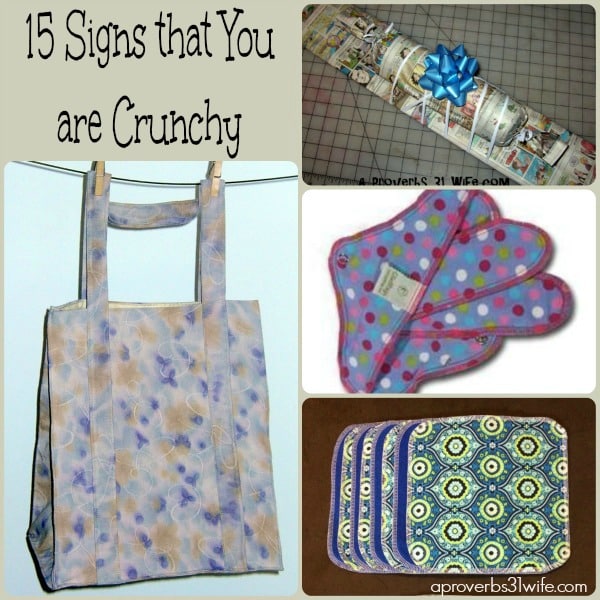 15 Signs that you are Crunchy.

I was thinking about this the other day and decided I needed to put together a post with 15 signs that you are crunchy. 🙂  Think Jeff Foxworthy's "You might be a Redneck, if…"
I am not a tree hugger, and at the end of the day, I have to be honest and say that my personal comfort and my pocket book comes first. However, I also believe that we are to be good stewards. Not just in financial matters, but also of this earth that we have been given to care for.
When I first heard the term "crunchy" my thoughts immediately went to fresh cereal that has just been poured. 🙂 But when I learned that it also meant earth friendly and hippy-like, I quickly realized that crunchy was a good term for me!
So going off of my experience, here are 15 signs that you are crunchy.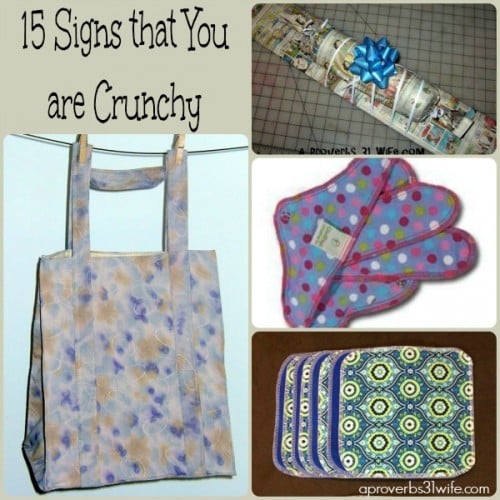 You might be a crunchy if:
1. You buy your household products from a company that represents living green and healthy, like Melaleuca, or Seventh Generation .
2. You use rags and/or flannel cloths instead of paper towels. I have flannel cloths like these, that I use for everything but greasy/oily and pet messes. The pet messes are cleaned up with old rags, the shop greasy messes with old socks, and the kitchen oily messes with paper towels. A roll of paper towels will last us well over 3 months.
3. You never throw away your old news papers and phone books, because they are the perfect fire starters, and drop cloths for messy projects. And speaking of newspapers, perhaps your family has come to expect their gifts to look like this!
4. At the grocery store, you are the person in line with (cute) reusable bags. I get plastic bags if I am running out of bags for cleaning out the litter box, and I always keep 2-3 paper bags in the house. Otherwise, I am rocking out cute bags like this one.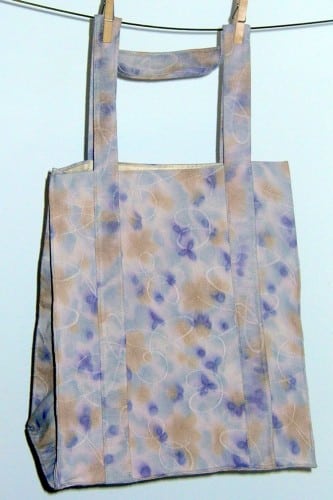 5. All old clothes are either donated, repurposed or turned into rags. In our case old clothes actually mean rags!
6. You love your Lunette Cup and recommend it to all your friends, even though you usually get weird or totally grossed out looks!
7. You use, or have considered using reusable pads such as these Glad Rags.
8. If you have children, you cloth diaper, and perhaps even use flannel wipes.
9. Your house is just a little warmer than you would like in the Summer, and you wear layers in the Winter. 🙂
10. You prefer natural and organic foods for you and your family. If possible, you garden.
11. If you are a mom and prefer natural/home births, breast feeding, baby wearing and other things along those lines.
12. If you homeschool or "unschool".
13. The doctor is your last option. We rely on Chiropractic health, and taking herbs and vitamins to boost our immune systems.
14. You soak grains, make kefir, and believe in fermenting your foods before eating.
15.  And this final one is proof: If you use family cloth, then you are a full blown crunchy super-star!  For the record, we do not, but I have certainly considered it. 🙂
I know I could give you way more than 15 signs that you are crunchy, but I think you get the idea. And I'm sure you also see the many ways that being crunchy means saving money and being healthy. 🙂
So let me know how many of those signs fit you! 🙂
Sharing here: Frugally Sustainable,