A Promise of Harvest | Harvest Series pt1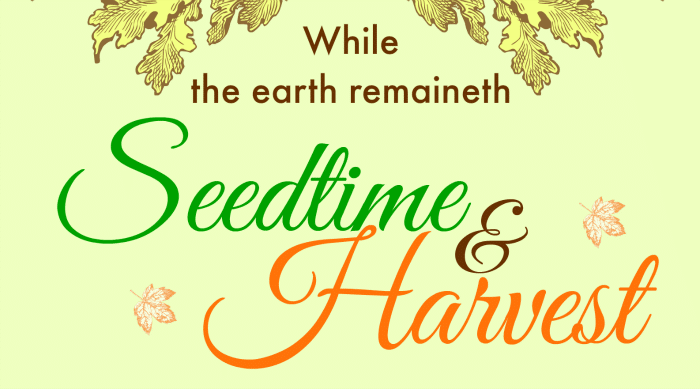 Back at the beginning of September as I was planning content for this month I asked subscribers (they are special people y'all!) whether they would like to see a video series on fall baking and decor, or a devotional series around harvest with printables.

The devotional series won by a landslide. So with much prayer and realization of my own unworthiness to write this, we are beginning. The plan is to have a new post added to the series each Friday throughout the month of October. I plan to center each post around 1 or 2 verses relating to the harvest and create printables with those verses.
A Promise of Harvest
While the earth remaineth, seedtime and harvest, and cold and heat, and summer and winter, and day and night shall not cease. Gen. 8:22 <<<Tweet it!
This is the promise of a God who is the same yesterday, today and tomorrow. He has promised us that so long as this earth is still here, the seasons will continue changing and there will be a harvest.
What the harvest will be however is up to us. At the dawn of creation we find plants and trees available for man to eat. God placed them there and man had only to eat.
After sin entered the world and man fell from grace, the ground became cursed and what grew or didn't grow became man's responsibility.
God promised a harvest of thorns and thistles, and if man wanted to eat, it would be by the sweat of his brow.
God gave us a promise of harvest, but if we are to eat or gather a "good" harvest, what are we to do?
Prepare the ground
Plant the seeds
Water during dry spells
Pull out the weeds
Gather
You can scatter seeds all you want, but unless the soil is ready, those seeds will not grow. We must prepare the ground before we plant our seeds.
Sow to yourselves in righteousness, reap in mercy; break up your fallow ground: for it is time to seek the LORD, till he come and rain righteousness upon you. Hosea 10:12
Plant the seeds. You can go to the store, you can choose the crop you want to grow, and you can buy the seeds. But if you just come home and lay those seeds on a shelf, you will never have a crop. We must plant our seeds if we want a harvest.
Except a corn of wheat fall into the ground and die, it abideth alone: but if it die, it bringeth forth much fruit. John 12:24
God has blessed this earth with the rain needed to grow a harvest. He also blessed man with the ability to harness that rain and use it during dry spells so the crop produces well. Without water, a plant will dry up and fail. Our harvest needs rain from the heavens or the ground to nourish our gardens in hope of a harvest.
For the earth which drinketh in the rain that cometh oft upon it, and bringeth forth herbs meet for them by whom it is dressed, receiveth blessing from God. Hebrews 6:7
All plants need the same basics to survive. Earth, water and sunlight. When the plants are too close together, one will choke out another so it can live.
If we allow weeds to take hold in out gardens and fields, they will take vital nutrients from our harvest to grow. A diligent farmer will work to remove the weeds, that the harvest may grow.
And some fell among thorns; and the thorns sprung up, and choked them. Matthew 13: 7 (parable of the sower)
When the harvest is finally ready, we must gather it. A bountiful harvest will do us no good if we leave the wind to blow away the grain, and the fruit to rot on the vines.
But when the fruit is brought forth, immediately he putteth in the sickle, because the harvest is come. Mark 4:29
The Parallel in A Promise of Harvest
I love parallels between the natural and the spiritual, and harvest is no different. If you want a perfect example of this parallel, read Mark 4:1-20.
I will cover more of these parallels in the next few weeks. Up next: Cultivating a Harvest.
A Promise of Harvest Printable
Looking for the printable? The graphic I used at the top of this post is also available as a printable for subscribers.
I've added it to the subscribers freebies page for you. If you are reading this post in an email, look either to the right side or clear down at the bottom for a subscriber's freebies button and that will take you right there.
If you are a subscriber but reading this on the web, you can check your email for my latest mailing, wait for the next one or just email me. I will be more than happy to send it directly to you (although it may take a day or so). kendrastamy@hellosensible.com
And if you aren't a subscriber, it's pretty easy to become one, and you will be sent access to the freebie page right after you confirm your subscription!