Buying our Dream Home – When God Answers Prayers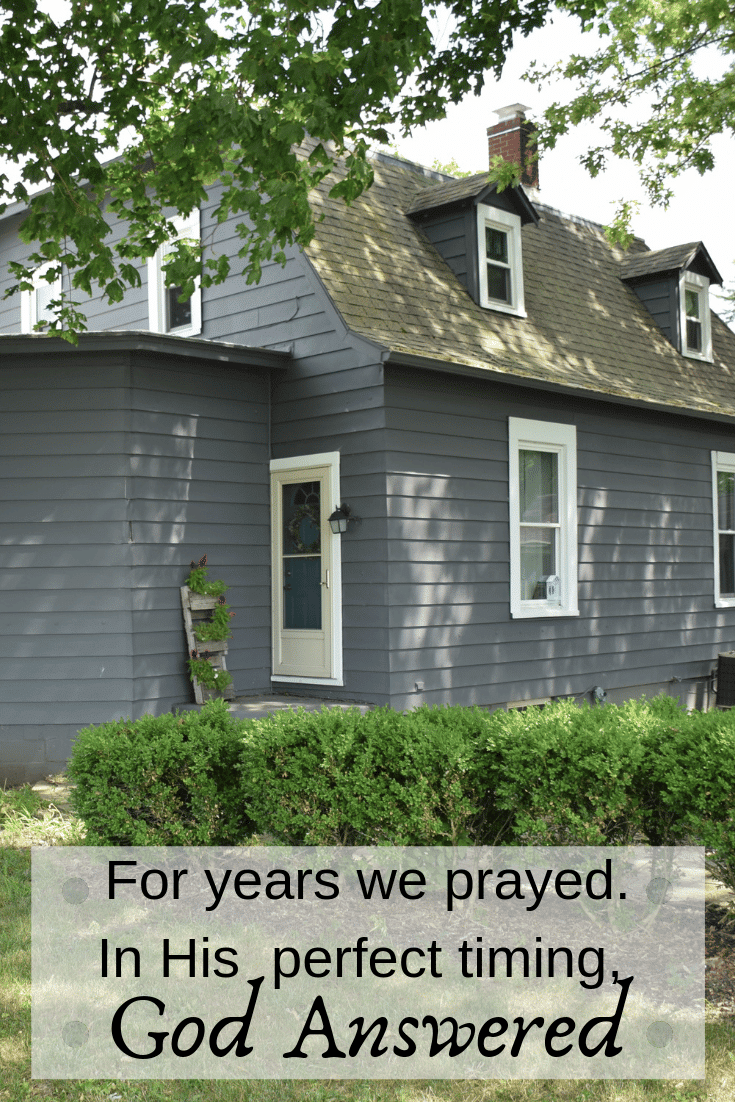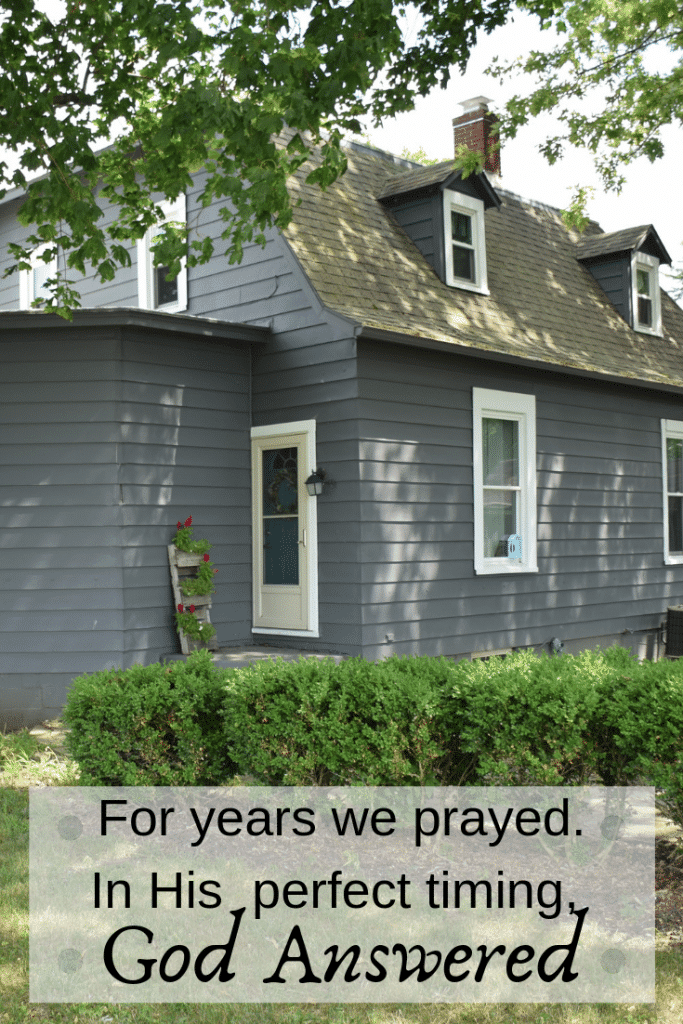 Last summer we found and bought our dream home.
Long-time readers may remember that we bought our first home in our early 20's and may also remember how we had set a goal of paying that house off in 10 years.
Okay, spoiler alert, we didn't get our first home paid off in 10 years. We were on track to be paid off in just under 12 years. Last Fall we had 3 years left to pay off our house.
Here's the thing, plans don't always go as planned. One prayer we had had for years was that when the time was right, God would have the perfect place for us.
Raising boys in town with a very small back yard wasn't ideal and we wanted them to be able to go outside, build, play, explore and learn. For a young age, our town back yard was nice.
Fully fenced, partially shaded, a nice sandbox playhouse, and swingset that their daddy had built plus a small garden made that yard great for toddler and preschool age.
But looking to the future, we knew that preteens and teens would need something more for their physically growing bodies. So even while very contentedly living in town, we knew that it wasn't the long goal.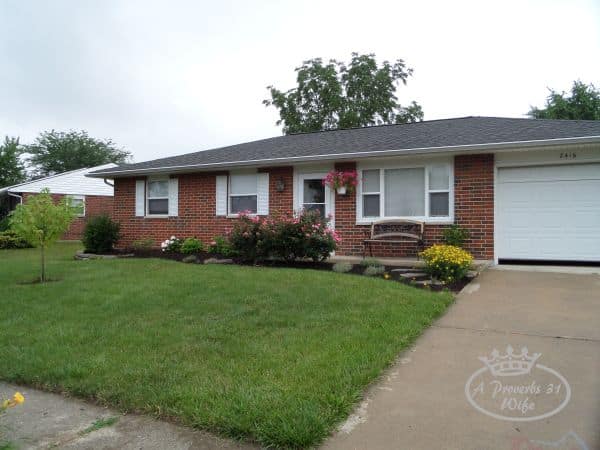 All this to say we knew God had the right place for us at the right time.
This whole saga began when some friends of ours were planning to sell their home. My friend asked us if we were interested in their home.
Jason and I talked it over and it just didn't seem to be the right place so we thanked them for thinking of us. The next time I saw her, I asked how it was going selling their home. She said they already had a buyer!
The people buying their home were downsizing and maybe THAT house would suit us.
Google Earth is handy… just saying 😉 My friend told us where their buyers were moving from. We looked up the location and realized we really liked the place and maybe it was right for us. We got their number and I called, leaving them a message. But they never called back.
A few months go by and we are pregnant with number 3. I'm quite content staying in town for a few more years, but Jason was always on realtor sites looking at currently available houses.
One day around lunchtime Jason calls me all excited because the house we had looked online at was on the market for sale.
We didn't even know what our financial options were. Could we buy another place without selling our current home first? I talked with a mortgage broker and learned that yes, we had options. The next step was to set up a showing, which we did.
But the day before we were to go through the house, it went under contract. We were a bit sad, yet clearly, this wasn't the home God had in mind for us.
Now we knew we had options.
We didn't have to stay in town until we paid off that house, nor did we have to sell before we could buy. We told our realtor exactly what we were looking for and they put that into a system that would let us know when houses within that criteria were available.
Our plan was to keep an eye on the market a little more closely and sometime after the baby was born and maybe a few months old, we would get serious and really look for a place. But what was God's plan?!
A few weeks later we got an email about a new listing. I'm looking at it and telling Jason that there HAS to be something wrong with it. Over 6 acres and what a price!
That was a Friday. We told our realtor that we wanted to go through the place, so we scheduled a showing for early Saturday morning.
We weren't the only people to go through the house that day, but we were among the first.
The place was quirky, I'll give it that. 1700 square foot living space plus a utility-style basement that couldn't be finished due to low headspace. It was basically move-in ready as well.
Was this "the one"?
Standing in there we felt strongly that this house could be THE ONE so we put in a very strong offer that day (over list price).
That evening, our realtor called us saying there were multiple offers submitted. The sellers were giving buyers until noon on Sunday to submit their best offer.
Separately Jason and I both put out a number and they were the same. So we made "our best" offer.
Here's the thing. We both liked the house and LOVED the idea of having 6 acres of land. But we were very much at peace with whatever happened. We had prayed for years that God would have the right place for us in His timing.
By the way, what did we call the "right place"? I wanted a large kitchen, Jason wanted land, and we both wanted to stay near our church family. This place had it all!
Sunday night, we get a call. The sellers accepted our offer! Now it was time to list and sell our first home.
Time to sell our first home
Pregnant me had quite a job ahead of me. We asked the realtor to go through our house and give pointers on what we should do to increase "sellability".
He offered some great tips, and within about 10 days we listed our home for sale.
I was really concerned about showings. Needing to keep our house clean and ready to show potential buyers looked HUGE. I was pregnant, had 2 small boys making messes, and it was canning season.
But God already planned that out for us as well. Our first showing was on a Sunday afternoon. We packed up kids and dog and spent time at the park. Monday we had an offer that we accepted.
God was putting one piece after another of the puzzle together as things just fell into place.
Lovely church ladies came to the new place one day and helped 8 months pregnant me clean it so we could move in. Other church members came and helped us move in, even some of the ladies going back to the old place and cleaning it up a bit for its new owners.
3 weeks later we moved in.
Not always smooth sailing, yet God has already plotted our course
It's not been smooth sailing since and a lot of financial issues popped up. Yet every time I would get frustrated God would show me how he was still taking care of us.
So many little things that just blow me away in His faithfulness. Every time we couldn't do what we wanted to, it was because he had something better in mind.
Now Jason will be starting a different job that is closer to home and hours that will have him home sooner. A year ago, changing jobs wasn't even an idea and yet the struggles of last winter and this spring is giving birth to Jason having more time at home with us.
If you are ever doubting God's faithfulness, just remember that he sees a much larger picture than you or I can even imagine!
By the way… is anyone interested in a virtual home tour? Leave a comment and let me know!