Easy DIY Valance for Picture Windows! (under $20)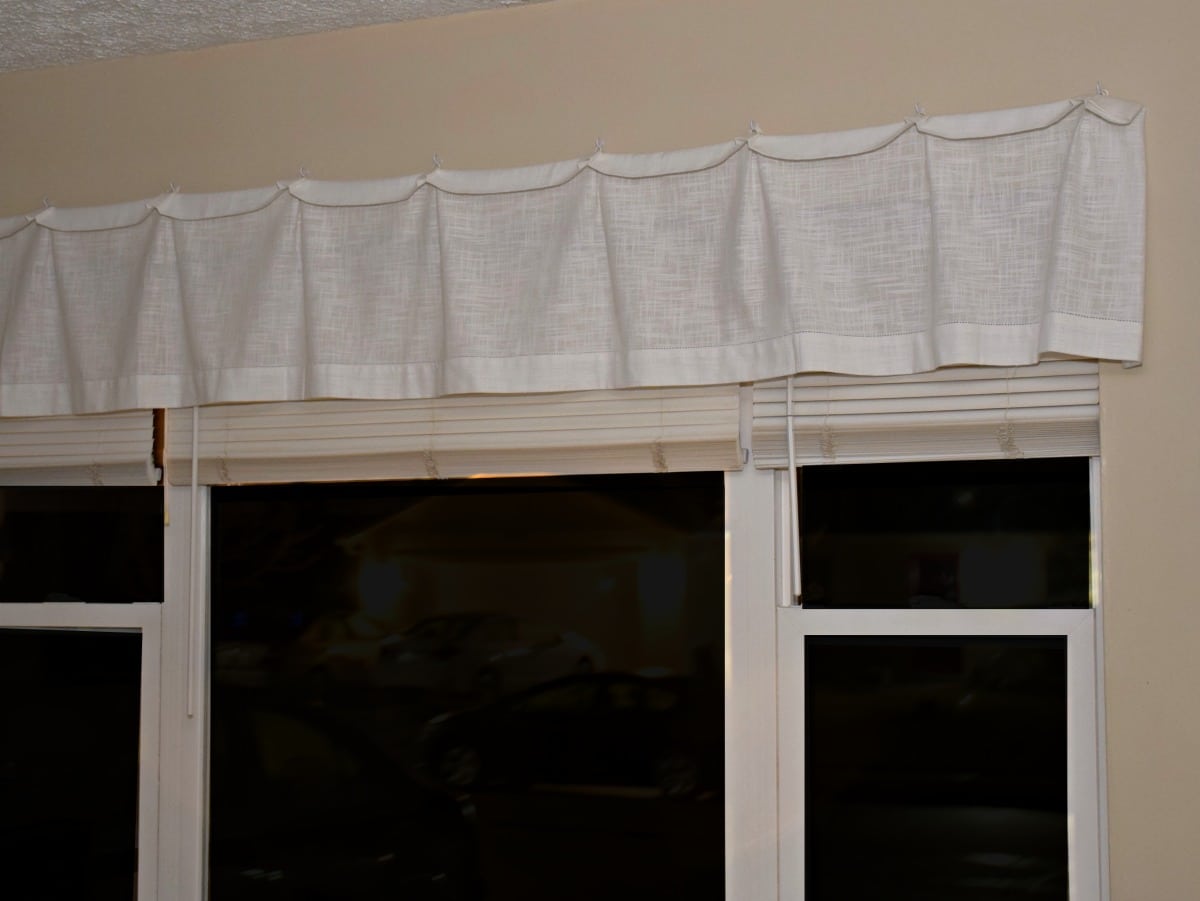 Do you have an area of your house that you aren't in love with but also aren't sure how to fix it? I have several such areas. Sometimes I also just get bored with what I currently have. Today I'm sharing how I made an easy diy valance for my picture window!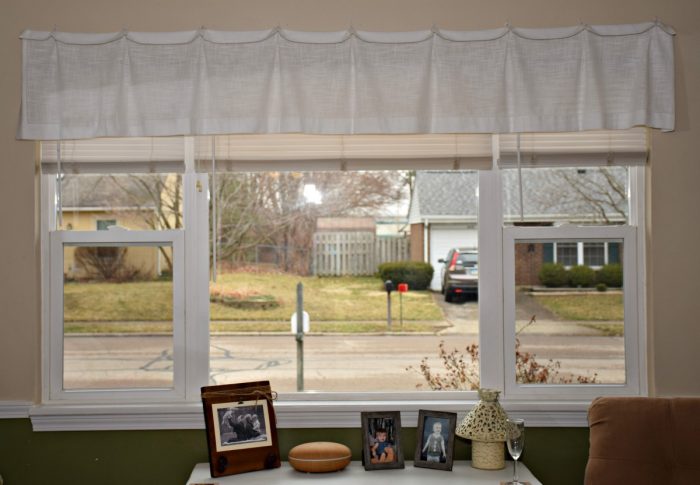 Once upon a time we were planning our wedding and the day before realized that we didn't have table cloths for the gift table. Mom ran to Walmart and the only thing she could find that matched decently were curtains. So she bought them, sewed them together and they worked.
Fast forward a year later and we bought a home. I wanted to put curtains up in this house since it was to become home for many years, and guess what I had on hand? That's right, our curtain table cloths were the perfect match for our living room.
When you don't have a budget for curtains, you use what you have, and that's what I did. But… I was tired of those green curtains. As well, our kids kept pulling on them and the inexpensive curtain rod I bought years ago was nearly ready to give up the ghost. In fact, it finished bending in half when I took it down for the last time.
I was also ready for something not quite so dark. A small area gets even smaller when you add little people and all their stuff. The right decor often gives the appearance at least of being larger than it really is. Time for something white, or at least a lot brighter than dark green.
Easy DIY Valance for Picture Windows
Our windows in the living room are a combined total of 7 feet across. When I started adding up the cost of the curtains I liked, plus curtain rods and hardware, it was clear that my ideas/wants were larger than my budget.
Then I happened up on an idea where someone used clip rings (like these) to hang a table runner as a curtain. A table runner huh? OKAY! Now we're getting somewhere!
I found a 9 foot, white linen table runner on Amazon (killer price!) and ordered it. Then, because I don't like the look of the clip rings, I found little white hooks at Meijer for less than $2.
Since the table runner was too long, I made 1/2″ inverted box pleats, stitched them with crochet thread and then crocheted small loops to hang on the hooks.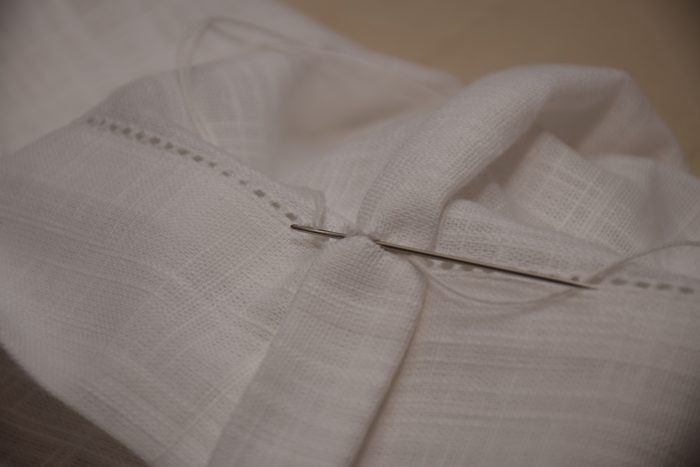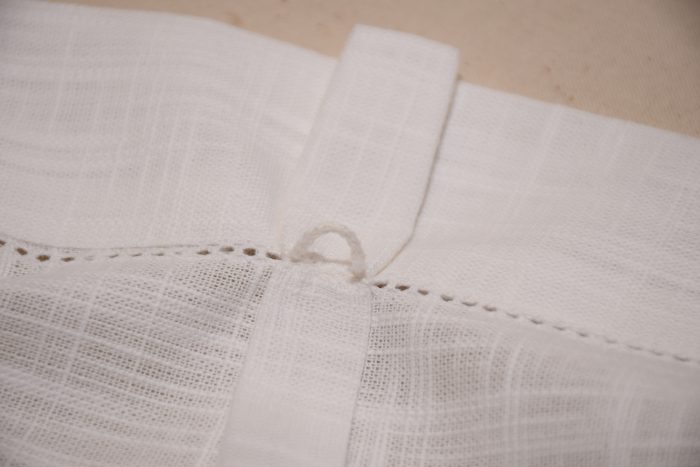 All that was left then was to twist in the hooks and hang my new easy diy valance! I love how it makes the whole room lighter and look larger! (Tip, hang your curtains higher than the window to make the windows look taller.)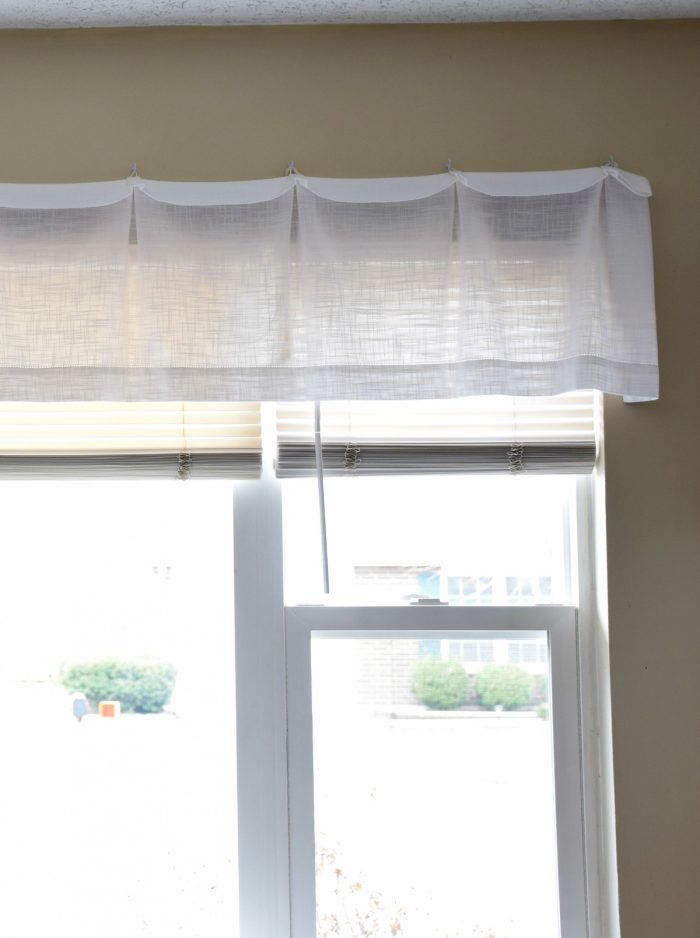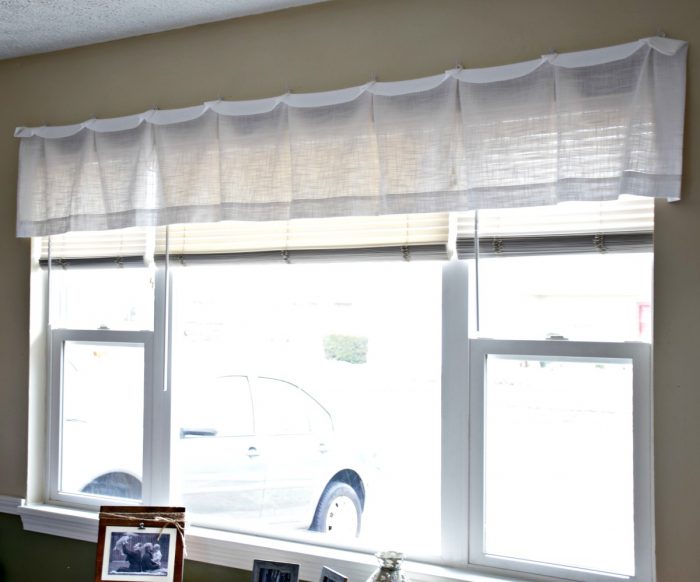 Gracious! Photographing white curtains with a light background is NOT easy! I tried several different times with different lighting's and still not totally pleased. Any pro photography tips?
Since I had the curtains down, I figured I should clean my mini-blinds and wash the windows. Thankfully my dusting mitt and microfiber clothes made that chore pretty easy! Here's my trick.
By the way, do you recognize the toy-shelves? That's the piece I upcycled a couple years ago.
Sadly, kids are pretty hard on stuff and the burlap ribbon I used was pretty quickly ripped off courtesy of toddlers. However, the overall design is still working fantastically for us!
And I made a little reading nook with the child's "lily pad lounger" from Brentwood Homes (I wrote a review here). Having a reading nook is awesome! The toddler loves to snuggle down in there with his stuffies and books.
What do you think? Will you try this easy diy valance idea for your home?