Encouraging Notes for Hubby's Lunch (Free Printables!)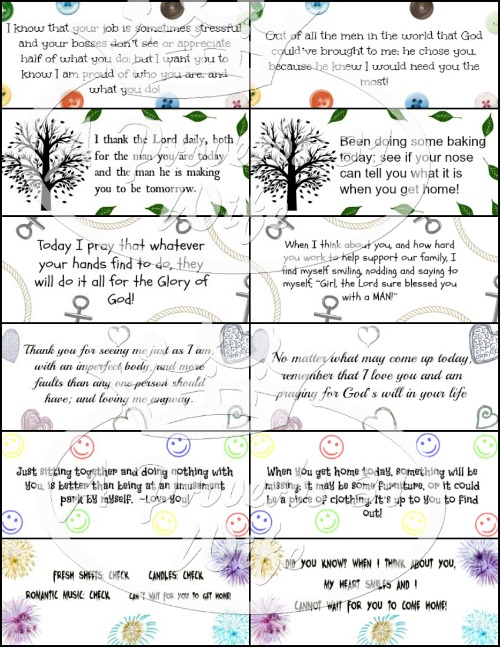 I'm not as good at this as I would like to be, mainly because every other week, I leave the house before Jason does.  But when I am home I like to get up with him and pack his lunch while he is getting ready. One of the fun things about packing his lunch is putting encouraging notes in his lunch box.
Of course, along with the encouraging notes, I have played funny pranks on him as well. 🙂
One problem with putting encouraging notes in hubby's lunch is the fact that I have to think about it and write them the night before, otherwise, he catches me in the act! 🙂
So I came up with the idea to type some notes that I could print off and cut out ahead of time and then it would be an easy thing to grab one and tuck it in somewhere.
It occurred to me that maybe you ladies would like that too. So I created a printable that will be free to subscribers of this blog. 🙂  (keep reading to get a watermark-free one.)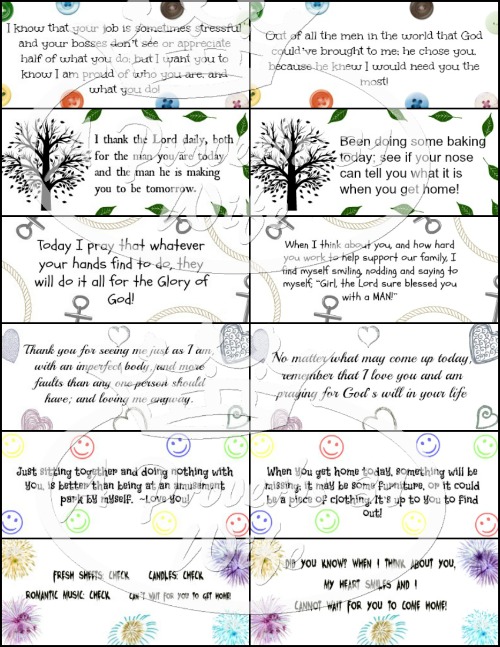 I'm changing up my subscriber options by the way… In the past, you could subscribe to this site through Google's feedburner service and get daily emails.
Those daily emails are somewhat of a problem though. Because my mind is always running on to new things; and I am interested in all things homemaking, I blog on many different subjects. If you look at the menu bar above you will see what I mean. Frugal Living, Natural Living, Homemaking, and Family posts for starters.
That means, a person who reads and loves my Marriage posts, could be annoyed with a Natural Living post. Or perhaps they subscribe because they loved one of my Frugal Living posts and they weren't quite sure what to think when an Inspirational post popped into their mailbox.
This leads to people subscribing and unsubscribing constantly. So I am switching up the emails. Now you will get a weekly update with my posts from the last week. Surely within a week's time, there will be at least one post for every-one. 🙂
Now back to that free printable: You sign up to get weekly updates right here, you will get an email to confirm you signed up, once you say "yes you want to get my posts" you will get a thank you email with a link to the download page. Easy peasy!
If you are a current subscriber getting daily emails, you can email me directly for the printable (kendrastamy@yahoo.com) or you can wait until Saturday morning when the weekly update comes and get your printable that way. Sometime this weekend I will to completely phase out the daily emails and they will be gone. I will switch over the emails of current subscribers, so you will get the weekly as well.
Oh, and if you miss the link in your email, my weekly updates will contain a link for the download page as well. So current subscribers will always have access to my printables!
Hopefully, I've gotten the glitches out at this point and everything goes smoothly, but if there are any issues, feel free to let me know. 🙂