Food is Our Medicine – Eating for Health
With winter approaching, many people are talking about getting flu shots or stocking up in cough syrup and other stuff. But for us? Food is Our Medicine.
Disclaimer: I am not a Dr. nor am I qualified in any way to give medical advice. The following is what we do to help stay healthy. Please remember that you are in charge of your own health, and A Proverbs 31 Wife is not liable for your choices.
We do not regularly avoid any particular food group. Choosing instead to source our foods from sustainable farmers and organic food at the grocery. You could say our focus is on quality foods instead of a certain diet.
During cold and flu season, quality food and proper nutrition are even more important. Certain foods should be considered staples during this time for their obvious health benefits and nutrition.
Food is Our Medicine: Top 3 Foods for Health Benefits
Bone Broth. Surely you knew I was going there. 🙂 I'm not talking about the thin, weak, overpriced bone broth one finds in the grocery. I'm talking about broth that bones have simmered in for hours, full of the nutrients your body needs and jiggly from gelatin.
I plan to share more on making bone broth in the future, but for now here's the simplified version: Bones and cartilage in a soup pan covered in water with a small amount of vinegar to pull out the minerals, then simmered for 8-12 hours.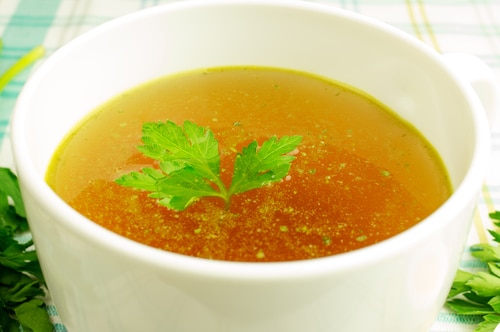 Why should you drink bone broth? It is a good source of easily absorbed calcium, phosphorus, magnesium, and potassium which are basics that we all need. Also contains chondroitin sulfate and glucosamine which help with inflammation and healing in your bones and joints.
A few more nutrients found are proline, glycine, amino acids and gelatin, which help with respiratory and digestion to name a few ailments. Gelatin is great for improving the health of your hair and skin as well.
I've really crammed a ton of benefits into a couple of paragraphs, but I will leave it at this; the #1 food you should eat/drink when you feel under the weather, is bone broth.
Garlic. Oh how I love garlic! As a natural flavor enhancer I add it to many of my dishes. Sometimes more to get the real garlic flavor, sometimes less just to bring out the other flavors of the dish.
More than a just great flavor additive, garlic is high in vitamins C, B1 and B6, Calcium, Potassium, Copper, Manganese and Selenium.  Again all vitamins needed for daily use, but garlic has also been shown to have cancer fighting abilities and is a great pathogen fighter.
During times of plague, many people wore garlic cloves around their necks to ward off illnesses and science is now showing that maybe these people weren't crazy after all!
Garlic is something I keep on hand and use in nearly every meal.
Citrus. Isn't it amazing that citrus are in season right in the middle of cold and flu season?! High in fiber and vitamin C and a good source of thiamine and folate, these bright fruits are permanent residents in our fridge from about Nov/Dec to April.
The antioxidants found in citrus help reduce free radicals which age your body and are considered to contribute to cancer growth. By keeping your body running at full potential colds and flu have little chance to attack.
Citrus fruits are said to help prevent cancer, improve blood flow, prevent bad cholesterol, heal wounds, increase iron absorption and so much more. Citrus is also very beneficial to the entire immune system.
Growing up mom would really push oranges and grapefruit when we had colds and it seemed like we would get over them so quickly. In fact we weren't often sick as kids. I'm guessing most of that to be due to homeschooling and a healthy diet.
Food is our medicine and those 3 I just listed are only the start of nutritious foods we eat for health purposes.. Here are a few more foods we regularly consume.
Eggs, especially cooked with soft yolks or in eggnog.
Liver from organically raised animals.
Raw milk from grass-fed cows.
Raw honey from locals.
Onions
Yogurt
Salmon and shellfish once a month
Avocados
A large variety of spices and herbs primarily for taste, but each one offers various health benefits as well.
We use Real Salt in cooking
Jason and I have both noticed how much better we feel when we eat at home. If we eat out or even at a church potluck we tend to feel tired and run down the next day. I've often noticed that we are both more irritable and our tolerance levels are lowered as well.
I had ICP with my last pregnancy and while the itching hasn't begun yet (am only 14 weeks and it typically doesn't begin until 25+ weeks) I've already noticed many of the other symptoms.
Fatigue and pain in my liver area are two of the main ones. Both of these symptoms are much worse after eating "unhealthy" foods and my eyes will often become very red for a day or too.
While supplements, herbs and oils also play a part in our wellness routine, food is our medicine for daily health and prevention.