Investments that Save Money ~Spend to Save?
We try to live frugally around here, but that doesn't mean we never spend money. In fact, there have been times where we've made rather large investments that save money. In some cases they quickly pay for themselves monetarily, in other cases, the side benefits help pay for them too.
When you want to save money, it can be hard to "let" yourself spend a lot of money on an item when maybe you could get something else a little cheaper.  I've learned the hard way that many times it's worth it to get a higher quality item and pay more, than to buy something cheaper and have to replace it in a couple years.
Below I have listed simple investments that save money in our house. For many of these items we actually had to save up for a several months to get them, but they were very much so worth it.
Disclaimer: I have used some affiliate links in this post. Purchases made after clicking one of these links help support this site. If you do not want to support us, simply clear your browser's cookies before placing an order.
Investments that Save Money:
#1 Washer and Dryer. If you have the hookups for a washer and dryer, then by all means look into getting them.  You don't have to go to some store and buy new. We found a guy on guy on Craigslist who sold repossessed machines, the bent-and-dent models and display models from stores. He also bought and resold gently used machines. We were able to get a 2 year old Whirlpool washer and an older Roper dryer for a total of $350 from him. Only once has the washer had a problem which I fixed, and the dryer still works too.
When our washer went out that one time, I had to take the load out of it, and go to the laundromat. To wash one load it cost me $3.50.  To dry that load it would've cost me $2.50. For 2 people we do an average of 5 loads a week, that would cost us $30 a week and $1,560 a year. I would say our washer and dryer have truly paid for themselves.
#2 Pressure Cooker canning: Canned foods have a long self life. In fact we canned beef 3 years ago and it's still fine.  Now I would suggest you use your own judgement, on eating home canned foods older than 2 years, but I will say we have ate many canned foods far older than that with no issue.
I own a Presto canner and an All American canner, the All American is my favorite, but I like and use them both. Your canner will cost $100 – $200, then you will need some canning supplies, plus jars, lids and rings. Jars can get expensive, and it's possible that you could spend an average of $200 just getting your jars and stuff. You could also look into buying used.
Benefits of canning. Your food lasts a long time. If you garden, your canned goods will be really cheap. Or if you have to buy produce, (we have to buy some) you can buy locally in bulk.  Our favorite foods to grow and can: Green beans, tomatoes, apples, peaches, pears, jams/jellies, pie fillings, and salsa. The way we go through it, I'm sure we save a couple hundred dollars a year, just by making and canning our own salsa.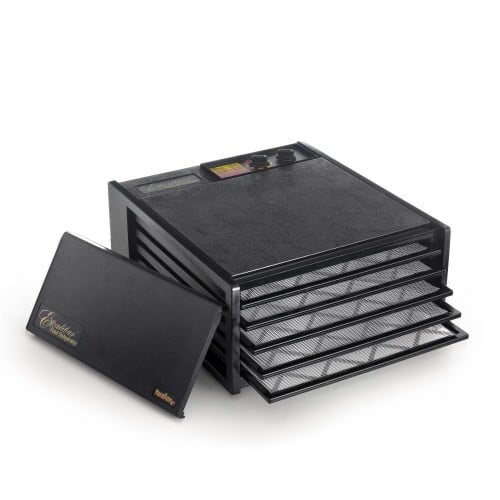 #3 Dehydrator: I saved for several months and bought an Excalibur dehydrator. I had many reasons for that, and I share a full review of my Excalibur dehydrator here. Dehydrating foods are a great way to preserve them. In fact, some would say dehydrating is even better than canning.
I also use my Excalibur to raise bread, make yogurt (big savings there!) and other things. I can even make my own spices using it!
#4 Large Freezer: When Jason and I were engaged and buying things for our home, there was one thing I was determined to have. We ended up buying it new because we could find a used one that would suit us. That was our large chest freezer.
Being able to have extra freezer space allows us to do things like buy a 1/4 cow, 1/2 hog, and several dozen chickens, from local farmers. We can buy non-gmo, organic and even grass fed animals for a fraction of the price you would pay in the store for comparable meat. It also allows us to freeze certain fruits and veggies. We grow a huge corn crop and freeze it. I buy fruits when they are in season and freeze them. In fact fruits are crazy easy to freeze, check out how we freeze blueberries for example.
Frozen foods maintain more nutrients than canned foods as well.
The downfalls to freezing foods, is that foods can freezer burn. There is also the possibility of the electric going out. Which is why I would like to invest in a generator.
#5 Vacuum Sealer: I found a great vacuum sealer at a garage sale for pretty cheap. My mother has that one as well, and we use them all the time. Vacuum sealing foods that go into the freezer prevent freezer burn; and vacuum sealing dry foods like fresh ground flours, coffee, rice and other stuff keep it fresh for so much longer.
As well, it has attachments that allow you to seal glass canning jars, so when I dehydrate tomatoes and stuff like that I can seal them up in jars, and the dehydrated foods stay fresh that much longer.
*note: Vacuum sealing dried foods in jars is not to be confused with canning. Vacuum sealed foods in jars that are going on the shelf, MUST BE shelf stable already.
#6 Sewing Machine: It won't always save you money, as I have learned that many times it's cheaper to buy already made than it is to buy the supplies. However, having a sewing machine can enable you to mend clothes, and make modest clothing for you and your daughters, and all sorts of other things. As well, you can easily save lots if you make your own curtains. 🙂
Smaller Investments that Save Money:
#7 Cloth Napkins: These are easy to make yourself. Buy flannel from the bargain bin at a fabric store, cut into 10″x10″ and serge the edges. For a family of 2, make 15-20, for each additional member add 10 more to your stash. Or, just wash them twice a week. 🙂
#8 Flannel Paper Towels: Just like with the napkins use flannel and cut them into paper towel sized shapes. Use two pieces this time and serge them together for a double thickness. I roll mine up on an old paper towel roll. I do still use regular paper towels for pet messes, and greasy foods.
#9 Cloth Diapers: Maybe not a smaller investment, I found a good deal on used ones, so got them pretty cheap. $150 for my stash, and I will need a special soap… but, I would go through $150 worth of disposable diapers pretty quickly, so it's a good investment for me.
#10 Your suggestions in the comments 🙂 Tell us something that you've invested in and never regretted for how it saves you money!