Lunchmeat Ideas ~Healthy, Nitrate Free Options.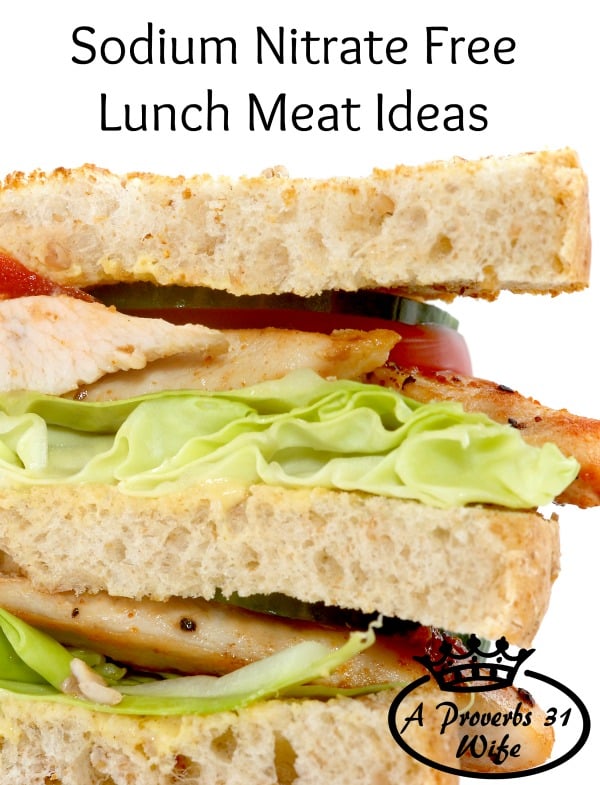 Jason packs a lunch every day.  It's a great way to save money and perhaps eat healthier. However, I came across a study that showed how sodium nitrates increased the risk of colon cancer.
American Cancer Society researchers published in the Journal of the American Medical Association a few years ago, high consumption of processed meat over 10 years was associated with a 50 percent increased risk in cancer of the lower colon and rectum. ~source
Jason definitely had a "high consumption rate" when it came to his lunches. He would take a deli meat sandwich every single day. It was time for some new lunchmeat ideas. It's been over a year now, and we have come up with some delicious alternatives to conventional lunchmeat.
Below you can find 7 different lunchmeat ideas that are simple and delish!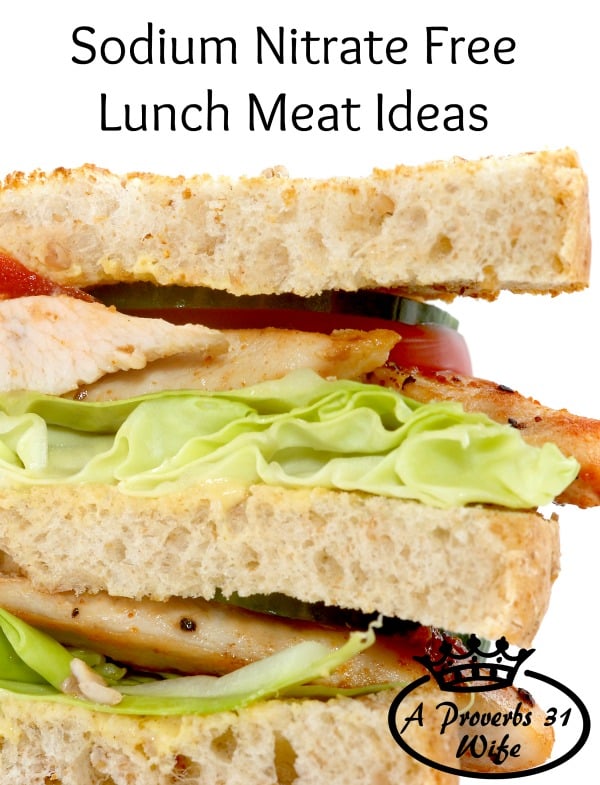 Deliciously Healthy Lunchmeat Ideas
Chicken Salad: We buy our chickens straight off the farm. Generally a butcher shop kills and chills and then we cut them up how we want them. Once we have our cuts, we toss the rest of the chickens into a large pot and cook the meat off of them. The meat then gets canned.
You can buy canned chicken or maybe you can your own. Either way, it's easy to open a jar/can of chicken and make chicken salad. Make your sandwich with the chicken salad, a slice of onion and a lettuce leaf. Tasty and simple.
You could do the same thing with tuna. We just don't really like it.
Sliced Chicken: Marinate and grill chicken breasts and then slice them. You could do just one at a time, or several and freeze what cannot be used in a week. Our favorite is to marinate in olive oil and Greek seasoning before grilling. Yummy!
Shredded Beef or Pork: I will put a large roast in the oven and bake at 300 for several hours. That makes for a very tender bit of meat and it can easily be shredded. I shred all the meat and divide it into piles that will last him for a week (generally 6-8 ounces). Each pile gets vacuum sealed in a bag and then all the weekly bags get put into a large Ziploc bag and put into the freezer.
Each week Jason gets a fresh bag out, that way it stays tasty and we don't run the risk of it going bad. I've found a Bar-b-Que sauce that doesn't have too much bad stuff in it and Jason puts that on his shredded beef and pork sandwiches.
Sliced Beef: If you are looking for more of a deli style meat this is for you. I take a roast and rub salt and pepper all over it and place it in a pot with a couple inches of water. Last time I also poured honey and ground chipotle pepper over the top of it. Then I bake at 450 just until the thermometer registers 160. I then pull the roast out and allow it to chill.
Sometimes I just slice it as thin as I can with a knife, but other times I am able to borrow my mother's meat slicer and I will use that. Regardless of how I slice it, I then use the same method as I do with the shredded beef. Divide into weekly packs, vacuum seal and freeze.
Sliced Pork:  Same method as the beef, but different seasonings. I normally use honey and pineapple juice for a sweet taste. But last time I poured a pint of my Strawberry Chipotle jam over the top and it was amazing!
Egg Salad: Hard boil eggs, peal them and chop them. Add a little Mayo or Miracle whip, salt and pepper. Serve in bread with lettuce, onion, tomato, cheese, or whatever sounds good to you.
If you must have deli meat: Sometimes Jason runs out of meat before I've had a chance to cook another roast, or he just wants deli meat. I have discovered the the Hormel naturals brand is probably the best option out there. It is however rather expensive so I only buy it if I can find it on sale and I have a coupon. 🙂
Between those 5 different lunchmeat ideas, Jason is pretty happy. I know he likes having different options instead of the same thing all of the time. As well, I've discovered it's actually cheaper to "make" our own lunch meat rather than buying it all of the time. 🙂 Win-win there!
One more thing. Unless I didn't get a new batch made for him, Jason always takes a wrap with my homemade tortillas rather than a typical sandwich. I usually have a loaf of bread in there for him, but he prefers the wraps. Suits me just fine 🙂