22 Legit Ways to Make $20 Fast [in 2023]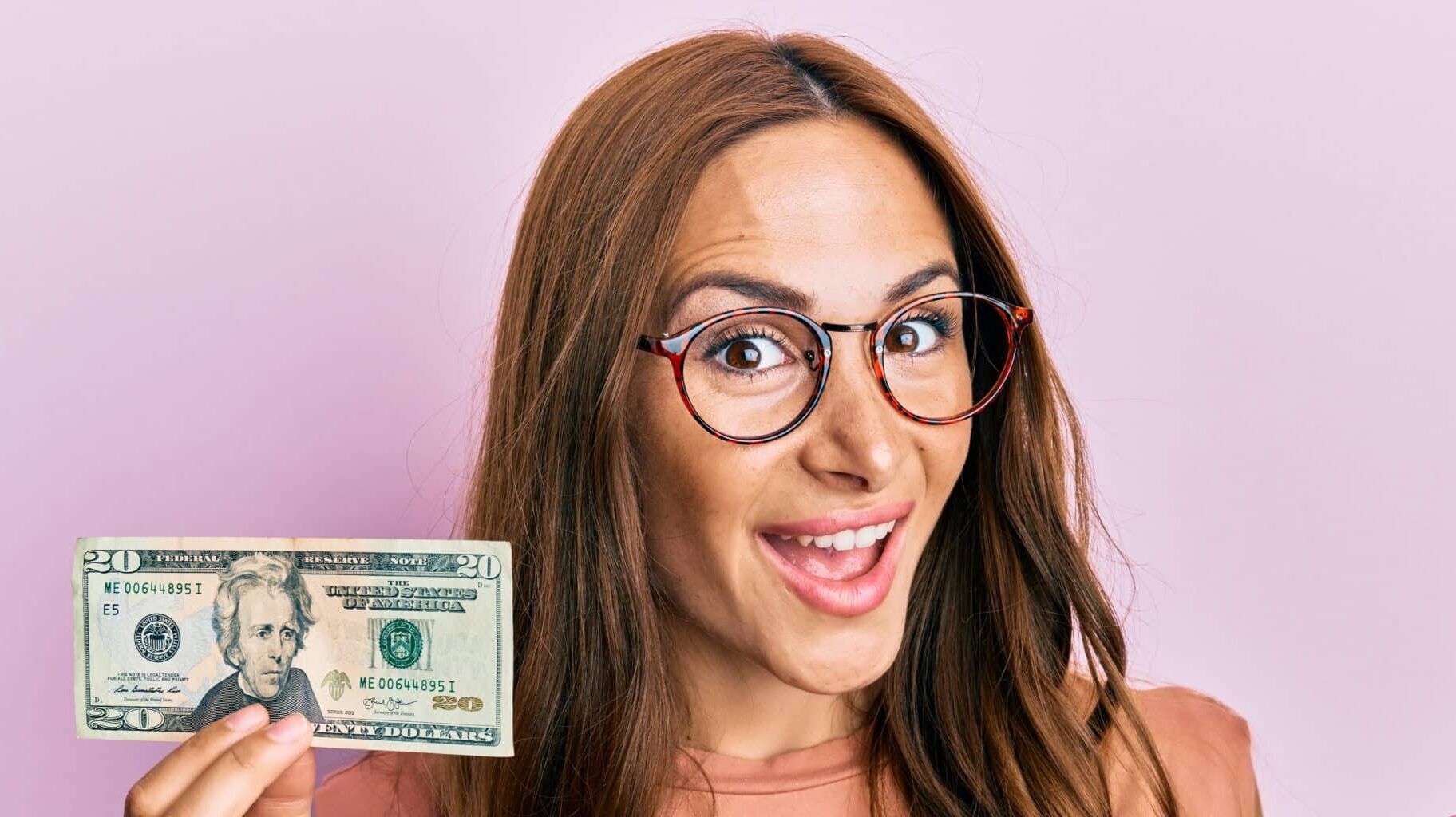 So you want to know how to make 20 dollars fast, right?
Whether you are looking to shore up your monthly budget or find a little extra cash for date night, there are a lot of ways that can help you make 20 dollars quickly if you do the work right!
Most of these ways are online and you can utilize these ways to make quick cash right from the comfort of your living room.
How To Make 20 Dollars Fast
Here are 20 ways you can make 20 dollars fast.
1. Make $20 Fast With Survey Junkie
Survey Junkie is consistently ranked as one of the biggest and most trusted paid survey sites available, and for good reason.
Completing just 3 surveys a day can earn you as much as $40 per month. Not bad for something that takes just a few minutes per day!
Each survey pays on average $0.50 to $3.00, and most take less than 15 minutes to complete. They have paid out over $25 million to their members over the past few years!
So how does it work?
When you sign up for Survey Junkie, you will receive opportunities to share your opinion with brands to help them improve their products in services. In exchange, you get paid for your time.
One of my favorite strategies is to complete surveys during "wasted time" during the day – waiting in line to pick up the kids, or while at the grocery store checkout, or even while watching Netflix on the couch.
Sign up for Survey Junkie with this link and get bonus points just for filling out your profile.
2. Join Branded Surveys
If you are looking to make some some quick bucks then Branded Surveys is a legitimate option to try.
It is a legit paid survey site that has been around for quite some time and is quite famous among bloggers.
Branded Surveys is a great addition to Survey Junkie as it allows you to earn even more with surveys.
One five-star reviewer on TrustPilot said, "great way to earn a little extra cash. Money in PayPal account within minutes!"
3. Get a $10 Sign Up Bonus With Ibotta
Ibotta gives you cash back almost anywhere you shop, but is especially great for grocery stores.
With Ibotta, you can get cash back just for shopping at hundred of different retailers, and even more bonus cash when you select certain offers.
Right now in my app for example, I see bonus coupons for $1.00 off Fritos products, $0.50 off Coca-Cola, and even $4.00 off Mucinex (always good for cold season at our home!)
Ibotta is one of the original coupon apps that has paid out more than $1.2 billion to members since 2012, so you know it's legit.
Right now, you can get a $10 sign up bonus just for downloading the app and spending your first $30.
Further Reading: Is Ibotta Legit? Full Ibotta App Review
Swagbucks is another top rated survey website that allows you to earn money for doing a lot more than just surveys.
It pays you to perform simple tasks like taking online surveys, watching videos, playing games, and other small fun tasks which you might normally do for free!
It has paid out more than 150 million dollars as of this writing in the form of cash rewards, gift cards, and more.
Sign up to Swagbucks today and get a bonus of $5 when you complete your first 500 points ($5)!
It would take you approximately 2 hours to complete your first 500 points.
5. Earn Cash Rewards on Rakuten
Rakuten is a free website/app that pays you cash in the form of cash and gift cards for your spending on various online stores.
Rakuten was founded in 1997 and in 2014 they also bought Ebates (a famous cashback company). They have paid over $1 billion to their users in cash rewards to date.
There are thousands of online retailers that are associated with Rakuten like Amazon, eBay, Walmart, Target, and many more.
All you have to do is install their extension on your browser or their app on your phone, and whenever you shop online through Rakuten you will earn cash back. Most offers are in the 1-3% cash back range, but some are 10%, 20% or even more for special deals.
When you'll sign up to Rakuten and spend your first $25, you'll get a $10 bonus. Similarly you can also refer your friends to Rakuten and earn $25 commission when your friend spend their first $25. 
You can make 10 dollars fast and cash back on almost every online purchase!
6. Become a User Tester
Did you know you could get paid for testing websites?
Probably not!
Well, Usertesting is a site that pays you to test various websites.
It is basically a platform which acts as a middle-man between big brands/companies and normal people.
Companies pay Usertesting to get their sites tested by normal people and Usertesting pays normal people like me and you to test those sites after taking their commission.
You can join Usertesting for free. It's best to have a high-speed internet connection because you will be asked to record your screen while testing a site and give your input via a microphone.
Usertesting pays you $10 per test and each test lasts for about 20 to 30 minutes.
7. Start Designing Logos on 99Designs
Logo design involves designing logos for companies and individuals on Photoshop or any other professional software.
99 Designs is a dedicated freelance graphics designing website that connects graphics designers and companies and individuals seeking graphics design services.
There are a lot of sub-categories that come under graphics design, but logo design is the most common and in-demand category.
You can learn logo design online absolutely free. There are a lot of tutorials available on YouTube, and if you are unable to find any quality tutorials on Youtube, you can join Skillshare or Lynda. They have free first month trials, and you could potentially learn enough in that time span.
After learning logo design and practicing it for a month or two, sign up on 99 Designs and start providing your services.
Besides 99 Designs, you can also provide your services on social media and other freelance sites like Fiverr and start making some money.
8. Offer Gigs on Fiverr
Fiverr is a freelance marketplace where you can offer virtually any kind of service for at least $5.
There a lot categories on Fiverr. I would suggest browsing through them and selecting the ones that you can think you are good at.
What if you don't have a skill?
You can learn any skill on Skillshare, they have a free first month trial and I am sure you would be able to learn enough. Other than that, Youtube is a great place to learn any kind of skill like editing on Photoshop, logo designing, video editing, social media management, web development etc.
9. Get Paid to Search the Web
Yes! You can make money by just searching the web.
Swagbucks is a survey and rewards site that has its own search engine.
When you search the web using their search engine, you earn free points which you can later cash out through PayPal.
Qmee.com is another site that also pays you to search the web. The best thing about this site is that it has a background application that runs in your browser and once you search the web through Google, Yahoo, Bing or Amazon, you make money!
You won't get rich from these apps, but after all you are just searching the web and not doing anything else.
10. Complete Micro Tasks on Amazon Mechanical Turk
Amazon Mechanical Turk is a platform where you can paid to complete short tasks.
There are many types of micro tasks available and you may not be able to do all of them so browse through them and only select those which match your skillset.
Each task is fairly low-paying, but they are quick (many of them one minute or less) so you can complete dozens of tasks per hour.
You can make 20 dollars fast on Amazon Mechanical Turk, and if you are consistent enough you can make good money every month.
11. Become a Transcriber
Are you familiar with transcription?
It involves converting audio or video into text.
If you have a good command of the English language and you can convert audio into text without any mistakes, then you can make money doing so.
The average hourly rate of transcribers is around $20 per hour, and an advanced transcriptionist can earn $25 to $30 per hour according to Transcription Certification Institute.
There are a lot of transcriptions websites that connect clients with transcribers.
Some of the best transcription sites are Rev.com, Transcribeme and Scribie.
12. Write for Listverse
Why only 20 dollars?
Why not 100 dollars!
Yes! You can make 100 dollars fast by submitting a unique and interesting piece of writing to Listverse.
Listverse is an entertainment website that regularly publishes interesting and shocking listicles (articles based on lists).
They pay $100 to every person who submits a unique and interesting listicle to them and it gets approved.
Listverse receives a lot of submissions, so it takes time for them to review all of them and approve or disapprove them based on their guidelines.
Read there submission guidelines here.
13. Deliver Stuff with Postmates
Have you ever ordered something online and got it delivered to your home the next day?
You must have tried some delivery service at least once in your life!
Well have you ever thought that you can actually work for that delivery company and make a good amount of cash?
While there are quite a few delivery services, I am talking about Postmates in general.
Postmates is a delivery company that was started in 2011 as a startup and since then it has progressed tremendously and is now one of the leading delivery service providers.
What's unique about Postmates is that it is an all in one delivery solution as it delivers almost everything from grocery to household items unlike other delivery companies.
How to make 20 dollars fast on Postmates?
You can start making money through Postmates as a driver, aka "delivery guy".
Your job would be to accept orders from customers and deliver their order to them at their location just like UberEats in the case of food delivery or Instacart in the case of groceries.
Sometimes you just have to pick a food order that has already been placed by the customer and is ready to be delivered, but in some cases you have to order the food yourself as dictated by the customer.
You can also expect tips from generous customers.
How to join Postmates?
In order to join Postmates as a driver you have to first fill in an application on their website, then you have to go through a background check, and then you are called to an orientation somewhere near you where you have to take your important documents including your Photo ID, bank account routing number or a voided check for payment setup and a copy of an insurance card if you plan to use your car for deliveries.
After orientation which normally takes 20 to 30 minutes you are called to an onboarding session where you would be asked about your job expectations.
After an onboarding session you would be allowed to start taking orders from customers.
14. Rent out a room to Airbnb
Have you ever heard of Airbnb?
You must have!
It is a company that connects travelers (who are looking for temporary accommodation) to people who have an extra room in their house that they are willing to rent out.
How can you make 20 dollars fast on Airbnb?
If you have an extra room or two in your home that you think you don't use often, you can put them up for rent and make a good amount of money – way more than 20 dollars!
Airbnb is a legit company with millions of trusted customers around the world so feel free to join it if you have an extra room or two at your home.
15. Drive for Uber
Who doesn't know about Uber?
It is a top rated ride sharing company that has been in the business since 2009.
Uber connects people seeking a ride to drivers ready to drive in their free time or full time.
Uber claims that you can make up to $25 an hour driving for Uber and can also receive tips and bonuses from the the customers and the company respectively.
Over the past few years the number of Uber drivers has increase dramatically, competing with many taxi services.
How to make 20 dollars fast with Uber?
You can make way more than 20 dollars with Uber if you really commit yourself to drive for at least a month. While many people drive for Uber part-time, there are also some people who work as a full-time Uber driver.
How to join Uber?
In order to join Uber, you need to meet the following requirements,
1. You need to be at least 21 years old, have a drivers license, and have been licensed to drive for at least 1 year (3 years if you are under 23).
2. Have a valid SSN.
3. Have auto-insurance (in-state).
4. You have to pass a verification check.
16. Sell Your Photos on Shutterstock
Did you know you could make money online by selling photos?
But what if you are not a professional photographer?
No need to worry!
You don't need to be a professional photographer in order to make money,
Any person with a love for photography, can make money by selling photos online with just a smartphone.
There is a website called Shutterstock that connects photographers with people looking to buy photos for any reason.
Photos that are sold on this website can be of any category, but the photo needs to be well captured with focus on the primary object.
For example, if I am taking a photo of a cat sitting in a garden, then I will have to focus completely on cat.
The better the photo, the better it sells.
You are paid per photo download. The average price of a photo is $1 but you are paid about 30% of it.
Yeah I know its less but since one photo of yours can be downloaded an unlimited number of times, you can make some decent money by uploading a lot of pictures.
This income is totally passive and requires no work other than just uploading photos.
You can make more or less money depending on how many sales you get per month.
You need to have a camera or a phone with high quality camera for this.
17. Sell Lemonade
Ever seen a 15 year old selling lemonade?
You must have!
Many teens try this business in summer and make a good amount of money!
Have you ever tried it?
Selling lemonade is in fact a profitable business provided you do everything right: from choosing a suitable spot and making an appealing stall to not compromising on taste!
This is a great business idea but starting it without any upfront effort would ultimately turn it into a failure.
Go out, meet some sellers, learn from them, learn marketing skills and invest wisely.
Check out this Wikihow article on how can you maximize your profits selling lemonade.
18. Mow Lawns for Your Neighbors
Yeah i know this is a boring job!
But after all, you need to make money fast!
And mowing lawns is one the best ways you can make 20 dollars fast.
You can make some extra money every month mowing lawns for your neighbors.
Just go door to door and ask whether they want they want their lawns to be mowed at a reasonable price.
Chances are that most of them would agree to your proposal as people normally don't have enough time for this task.
19. Start Babysitting
Baby sitting is one of the most profitable part time job which is often overlooked,
Instead of looking to work in restaurants and stores, go for baby sitting!
Not only it will help you make a significant income but also help you become a punctual and organized citizen,
How much money can you make as a baby sitter?
The average hourly rate of baby sitters in the United States is about $15/hour but it can vary depending upon your experience and expertise.
The amount of money you make depends upon you whether you want to become a full time baby sitter or treat it as an extra way to make some cash every month.
The best way to get started at a baby sitter is to start with your neighborhood and relatives.
Once you get some experience, start approaching other people with a solid portfolio or join  and agency like Smart Sitting.
20. Make 20 dollars Fast Offering Tutoring to Teens
Do you get good grades?
OR
Are you specifically good at a particular subject?
Why not provide tuition to teens around you who are struggling at any subject?
Not only this is great way to make money but it also polishes your skills.
You can offer collective tuition to multiple teens or private tuition to one or or two teens a day.
The average hourly rate of high school tutors in USA is $30 to $40 an hour, however rates can vary depending upon various factors like experience, results, and expertise etc.
21. Sell Old Stuff Through Decluttr
Do you have old stuff at your home that is just occupying the space is of no use to you?
You can sell this old stuff through an app called Decluttr.
Decluttlr is a free app that allows you to sell old CDs, DVDs, gagdets, games and books with no hassle.
All you have to do is to take the pictures of the item you want to sell, scan them to get a valuation, and then finally list the item on the app to sell it.
How does Decluttr work?
Step 1: Take pictures of the item and scan it through the app to get the valuation.
Step 2: Pack your item into a box when you get an order.
Step 3: Decluttr will send you the free shipping labels which you have to paste on the box.
Step 4: Go to the nearest shipping location and ship it to the customer.
22. Create and Sell Resumes
Resumes are in huge demand nowadays as every single person wants his resume to stand out while applying for a job.
You don't need to be an exceptional designer to make a resume. you just need to be good enough in Microsoft Word. There are a lot of tutorials on YouTube on how to make an attractive CV which can help you learn the process in a matter of a few minutes.
Usually the average selling price of a resume is higher than 20 dollars but you can start from 20 bucks and then keep on increasing your rates when your portfolio grows.
Upwork and Fiverr are great sites to start with, but you can also advertise your services through your personal social media accounts and even Craiglist.
Frequently Asked Questions (FAQs)
How can I make money right now?
You can make money right now by selling old items that are present in your home but serve no purpose, buy and sell stuff at a higher price, do babysitting or pet sitting, mow lawns, take paid surveys online, and provide freelance services.
How to make 20 dollars per day?
You can make 20 dollars or more a day through a lot of ways. Some of them are blogging, dropshipping, flipping stuff on Craiglist, babysitting, pet sitting, lawn mowing, selling lemonade, and tutoring teens either online or offline.
How to make 30 dollars fast?
You can make 30 dollars fast through a lot of ways like flipping items, taking paid surveys, dropshipping, babysitting, pet sitting, driving with Uber or Lyft, delivering food with UberEats, and much more.