Peppermint Hot Chocolate Recipe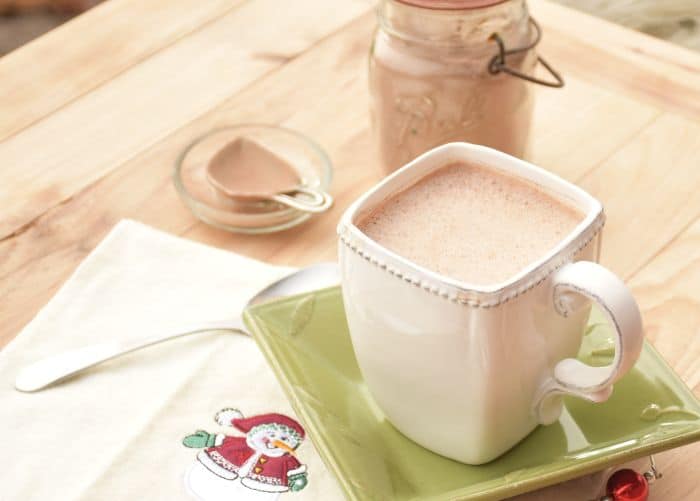 When it's cold I want warm drinks, like this peppermint hot chocolate recipe that I'm about to share. Real ingredients, real food, dairy free!
The recipe makes 2 pint jars full. I'm totally keeping one for myself but planning on giving the other one as a gift. (so long as I don't use it first!)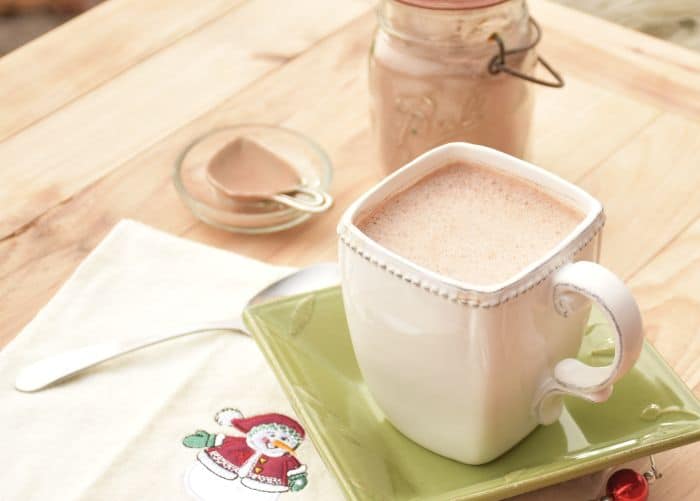 It's often hard to decide which hot drink I want. My chai latte is good even in the summer time, the pumpkin spice latte has been a huge hit the past few months, and I should be drinking my pregnancy tea. But sometimes I just want hot chocolate.
I was drinking a specialty hot chocolate mix that we received in a christmas gift basket last year. It was pretty tasty, but always made me feel funny. So I looked at the ingredients…
Sugar, Whey Sweet Dairy, Corn Syrup Solids, ,Vegetables Oil Partially Hydrogenated(May contain one or more of :, Corn Oil, Canola Oil, Sunflower Oil), Milk Non Fat Dry, Cellulose Gum, Salt, Sodium Caseinate(Milk Derivative), Flavors Artificial Vanilla…
You know what? Never mind. I'm done drinking that stuff. Obviously chock full of gmos and the ingredients are a mess. No wonder I wasn't feeling well after drinking a cup. It tasted good, but not that good!
Time to find a recipe. A better recipe. A recipe that isn't full of junk and stuff I don't have on hand. Our church cookbooks offered several recipes, but I wasn't sure about them and didn't have milk powder anyway.
So I did I what I normally do. Looked at dozens of recipes on, and offline, got an idea for ingredients and began experimenting!
I discovered that "Mexican Hot Chocolate" isn't for me. I like things spicy, but my chocolate needs to be sweet, not spicy! Cinnamon adds a tasty dimension to the flavor, but we only like a small amount. A little salt really makes it tasty, and peppermint oil trumps a candy cane any day!
Presenting my Real Peppermint hot Chocolate Recipe!
While you could use regular raw cane sugar, I will tell you that it's not going to dissolve well. But if you don't want the cost of organic powdered sugar, it's shockingly easy to make your own!
All you need is a food processor/blender and a sifter. Put your regular organic raw cane sugar into the processor and turn on high. In just a minute or two the sugar crystals will become powder. (Note: this is best in 2 cup increments or less.)
Sift the powder and reprocess any crystals that didn't powder the first time. See the difference below!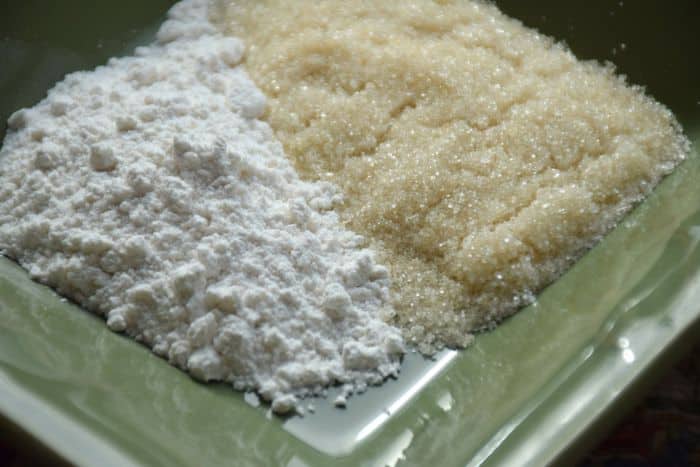 One thing to take note of. You will end up with more powdered sugar than crystals. I powdered 1.5 cups raw cane and ended up with 2 cups powder.
Once you've made your powdered sugar, it's time to mix all ingredients together. I used a wooden spoon to stir until colors blended, then used a sifter to ensure everything was mixed properly.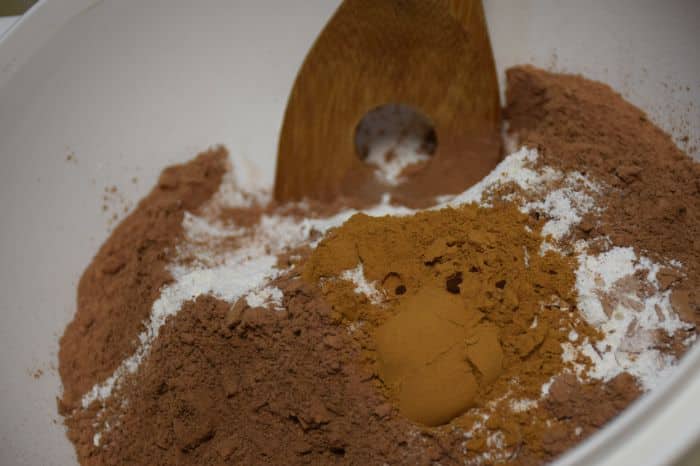 Real Peppermint Hot Chocolate Recipe
A simple and delicious hot cocoa recipe that only calls for real and pure ingredients. The peppermint flavor is a great treat as well!
Author:
Kendra ~A Proverbs 31 Wife
Ingredients
2 cups cacao powder
1½ - 2 (your preference) cups raw cane sugar
1 tablespoon cinnamon
⅛ teaspoon real salt
10-15 drops peppermint essential oil
Instructions
Use food processor to powder your cane sugar, or just use 2 - 2¾ cups powdered sugar
Mix all dry ingredients
Drip in peppermint essential oil
Stir well
Use sifter to ensure peppermint oil is completely dispersed
Enjoy 2-3 tablespoons hot cocoa mix with 10 ounces warm milk.
Notes
If you are dairy free, substitute dairy milk with a different milk of your choice (coconut milk is awesome!). This recipe is not that great in plain hot water.
Don't you love my oldie-fashioned jar and that scoop? So much fun! The jar came from my mom (been in the family) and the scoop came from Mary & Martha.
We love this hot chocolate mix and it's best in whole milk for the creamy flavor. If you cannot have dairy, put it in a nut milk rather than water. It's just not good in plain water. 🙂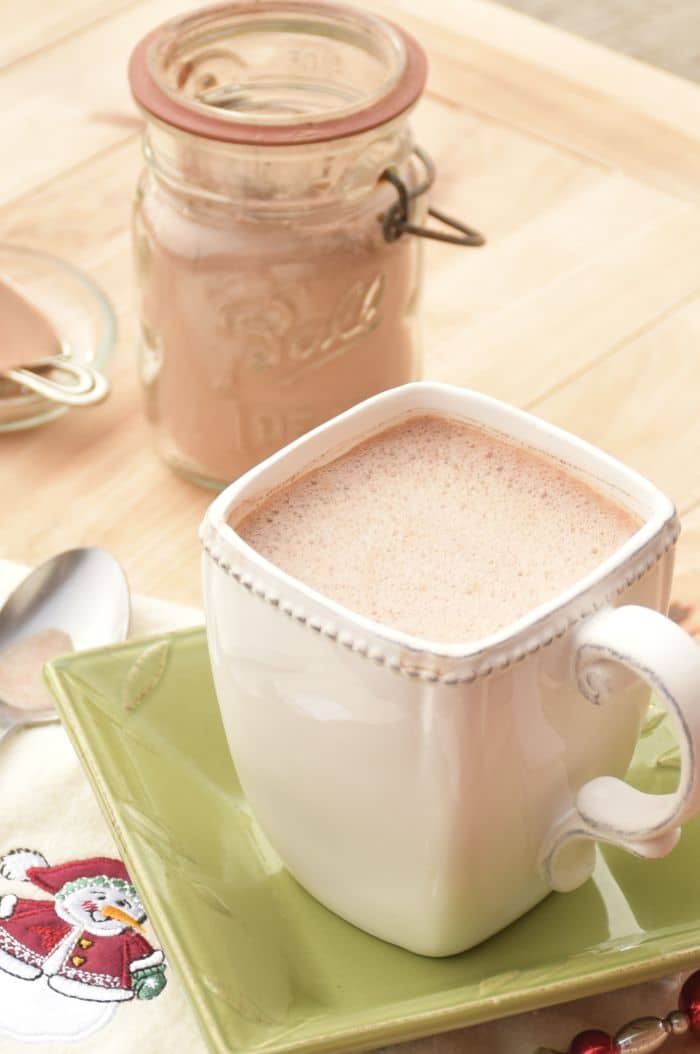 Since the recipe makes two pints, I decided to gift the other one. You know, so I will have a good excuse to make even more for us! Hehe!
I looked at a few printables available online, attempted to make a couple of printables of my own and then realized I was being silly. I should just make my own and then the wording would be perfect!
Making gift tags is so easy to do. I whipped up a cute little gift tag in just a few minutes. A few minutes later I made a quick video to show you how easy it was.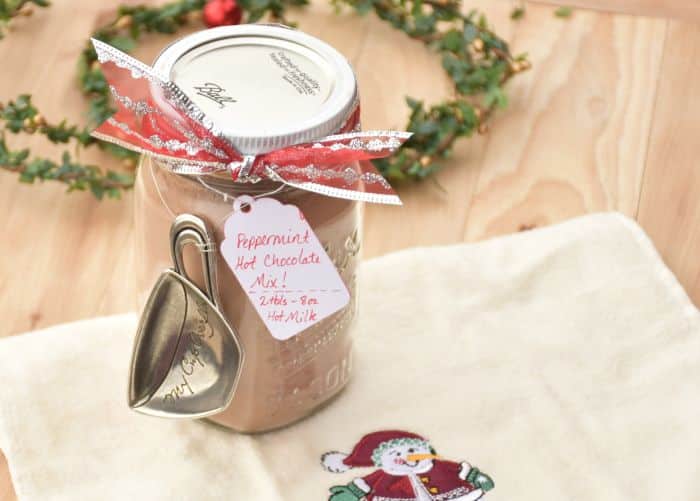 Would you like to sip my real peppermint hot chocolate recipe with me?