20 Awesome Teacher Appreciation Week Ideas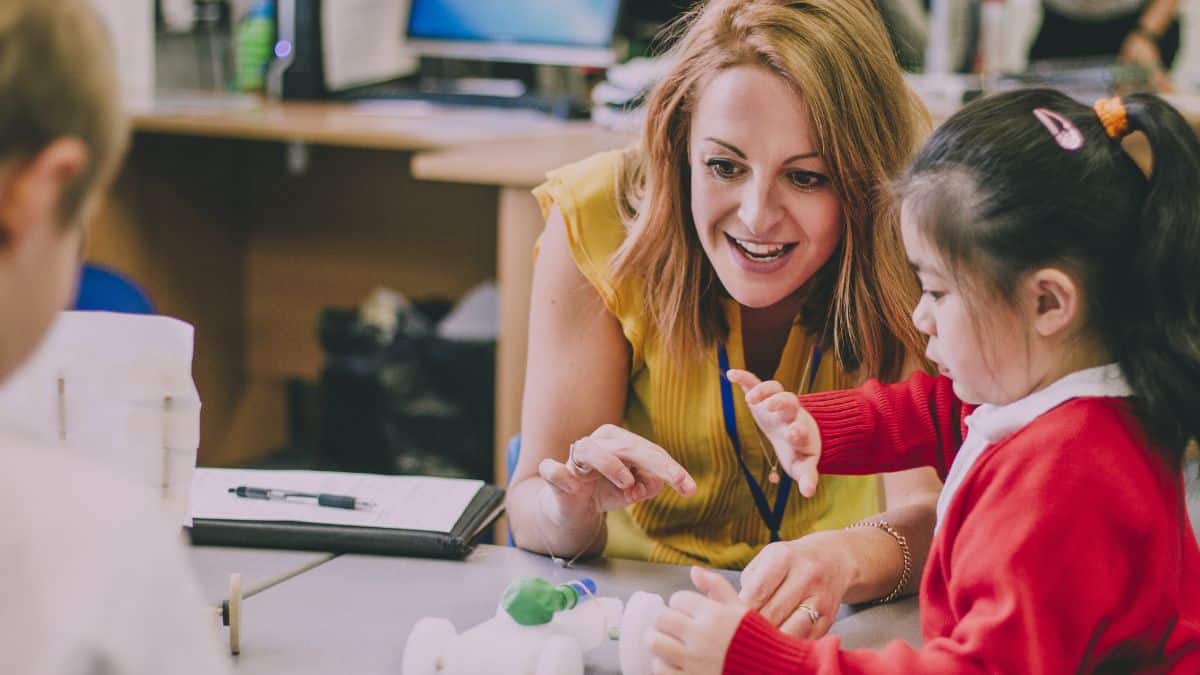 Have you ever had a teacher who made a difference in your life? They may have inspired you to pursue a particular career, motivated you to try again, developed your interest in a subject, or made learning more fun. Whatever the case, Teacher Appreciation Week is the perfect time to let those special teachers know how much they mean to you.
Teacher Appreciation Week is a perfect time to celebrate teachers' hard work and dedication during the school year. There are many ways to show appreciation, and we've rounded up some of the best Teacher Appreciation Week ideas to make it extra special.
Teacher Appreciation Week Ideas
Write a letter of appreciation
Send a voice note or video message
Bring in flowers or a small plant
Make a homemade gift
Give a gift card or voucher
Write a book about the teacher
Thank the teacher publicly on social media
Make a donation in the teacher's name
Buy some school supplies
Let teachers know their impact
Help with some tasks
Plant a tree
Make a classroom decoration
Help with the end-of-year cleanup
Update the coffee machine
Send a fun teacher appreciation gift basket
Gift self-care supplies
Bake a special treat
Make a teacher door hanger
Donate books to your teacher's library
1. Write a Letter of Appreciation
One of the simplest but most thoughtful things you can do is write a letter expressing your appreciation to your teacher. You could mail it, hand-deliver it, or put it in their mailbox at school. A letter is a great way to express gratitude and be personal. Just a few kind words expressing your appreciation mean the world to them.
2. Send a Voice Note or Video Message
If your child has not yet mastered their handwriting, you could record a voice note or video message expressing your appreciation instead. This is an excellent option for younger children, and it only takes a couple of seconds with the help of an adult. A cute message will let your school teacher know that you're thinking of them and will make their day.
You could also involve other parents by asking them if they have any photos or videos to share. Create a video montage from their submissions to show the teacher how many people appreciate their work.
3. Bring In Flowers or a Plant
A potted plant or succulent is always a welcomed Teacher Appreciation Week gift, and it's probably one of the easiest ways to show your teacher your appreciation.
For a personal touch, add a gift tag with a short written message that reads "thank you for helping me grow," and tie it with a ribbon around the flower pot.
4. Make a Homemade Gift
Nothing says "I care" like a homemade gift. This gift idea is always more meaningful than a store-bought one because it shows you took the time to create something special. It doesn't have to be complicated; a simple card or drawing from a student will do wonders.
5. Give Them a Gift Card or Voucher
If you're unsure what to get the teacher, a gift card is always a safe bet. Teachers can use it to buy whatever they need, whether it's for their classroom or themselves. Make it more personal by choosing a location that the teacher frequents, such as a Walmart, Target, or Starbucks gift card. They'll be appreciative of the thoughtfulness and a bit of extra money.
6. Write a Book About the Teacher
Get your class involved in writing a book about everything they love about their amazing teacher. It's a fun project that the class or a group can work on together, and the teacher can keep this thoughtful gift as a memento. This idea might take some planning and coordination, but it's worth it! The book can be made by simply stapling the pages and creating a book cover together. Alternatively, make it online via a document-sharing or photosharing site.
7. Thank Them Publicly on Social Media
Social media is a great way to show your appreciation for your teacher. A simple post or tweet expressing gratitude will let them know you're thinking of them.
8. Make a Donation in Their Name
If your teacher is passionate about a particular cause or organization, donating in your teacher's name is a nice touch! Include a card telling them you made a heartfelt donation to the organization in their honor.
9. Buy Some School Supplies
According to The New York Times, teachers spend about $500 of their own money on school supplies per year. Teachers always need school supplies and stationery, so why not buy them some? It's a practical gift that they're sure to appreciate. Think of purchasing an assortment of dry-erase markers, pens, folders, or gift cards for future supplies.
A fantastic way to celebrate the week is to set up a fundraiser for classroom supplies. Have a bake sale, car wash, or one big day of donations. The funds can go directly to the teacher to spend on their classroom.
10. Tell the Teacher How They Have Made an Impact
Many students have reconnected with teachers in later years to tell them about the positive impact they had on their lives. But why wait? Nothing means more to teachers than knowing they've made a difference. They care deeply about their students' needs and progress. Sharing stories and kind words about how the teacher has made an impact helps keep their spirits high.
11. Help Teachers With Some Tasks
Is there something your teacher could use some help with? Whether organizing their classroom or covering recess duty, offering to help is a great way to show that you appreciate all they do. Ask the teacher if there is anything you can do during Teacher Appreciation Week to make their life a little easier.
12. Plant a Tree in Their Honor
Plant a tree in your teacher's honor in your local community or donate to an organization to have a tree planted in their honor. The tree symbolizes life, wisdom, and growth and is perfect for commemorating a special occasion.
13. Make a Classroom Decoration
Get your classmates together and make a decoration for your teacher's classroom! It could be something crafty to hang outside the door, a poster for the bulletin board, or a big sign that says "Thank You, Teacher!"
14. Help Teachers with End-of-Year Cleanup
At the end of the year, teachers must do a lot of cleaning and organizing in their classrooms. Hold a luncheon on an early dismissal day. Coordinate food and drinks and sign up volunteers in advance to help clean up the classroom, pack up supplies, and move all to the car. This is an excellent way for parents and students to show their respect and make the teacher's job a little easier.
15. Update the Coffee Machine
Improving the teachers' lounge coffee maker is another great appreciation idea. A single-serve coffee brewer for teachers with a box of coffee "pods" are a quick and easy way to make a great cup of coffee for the teacher on the go. A coffee machine allows them to have a cup of their favorite coffee almost immediately instead of waiting for an entire pot to brew.
16. Send a Fun Teacher Appreciation Gift Basket
Gift baskets are an excellent way to say thank you. You can fill it with all sorts of things that your teacher will love, from snacks to cozy socks. Collect contributions from other parents and agree on some items to buy or purchase inexpensive items from the dollar store.
For a personal touch, create the basket around a theme or hobby the teacher is interested in, such as football, gardening, cooking, movies, books, etc.
For example, maybe the teacher enjoys drinking coffee. In this case, you could fill the basket with bits and pieces such as a coffee mug, gourmet coffee beans, shortbread, a gift card to a coffee shop, and a thank you note.
17. Self-care Supplies
Teachers work hard and often put their own needs last. Show your appreciation by getting them some self-care supplies, such as a nice scented candle, lotion, face mask, sanitizer, or soap. They can use these to relax and rejuvenate after a long day.
18. Bake a Special Treat
If you like to bake, whip up your teacher some mouthwatering homemade treats! It could be anything from chocolate chip cookies and truffles to doughy bread. Baking something delicious is a sweet way to show them how much you care. For an even more special treat, add them to a mason jar and include the recipe or a note telling them how to make it themselves.
19. Make a Teacher Door Hanger
A door hanger is a fun and easy way to show your teacher how much you appreciate them. Craft a door hanger that says "Teacher Appreciation Week – Thank You!" or "Teacher (name) Classroom" and hang it on their door. Include a note expressing your gratitude.
20. Donate Books to Your Teacher's Library
If your old books are gathering dust at home, why not donate them to your teacher's classroom library? Teachers often spend their own money stocking the library, which can be costly. You could include a note with the book explaining why you chose the book and how they are appreciated!
Teacher Appreciation Week Ideas to Celebrate Your Teachers
Teachers motivate us, challenge us, and help us grow. They shape the future one lesson at a time and deserve our acknowledgment.
These are just a few Teacher Appreciation Week ideas to celebrate teachers in your life. Show your teachers how much you care and are grateful for all they do!