15 Best Family-Friendly Resorts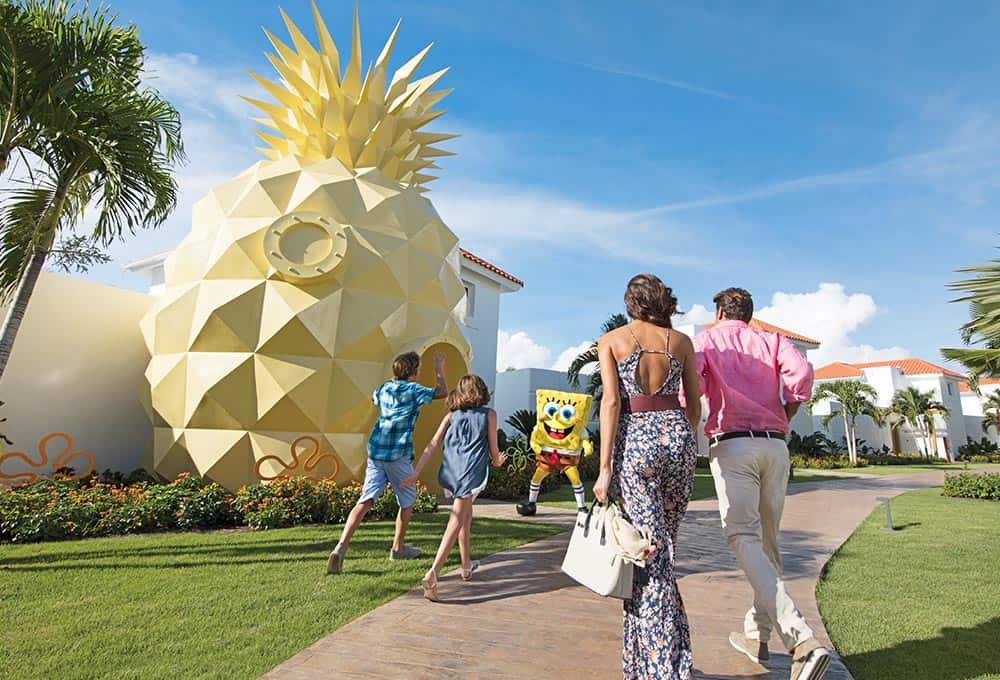 Family travel can be an amazing way to bond with your children. I like to plan trips with my boys every summer vacation, whether it's a trip out of the country or something nearby we can just drive to. Luckily for us there are some wonderful resorts that are perfect for families.
A place where your kids can be kids, and adults can relax while their children play. We have gathered a list of some of my favorite hotels and resorts for those of you looking to book your next family vacation.
Domestic:
Hyatt Huntington Beach – California
The Hyatt Huntington Beach is one of my favorite hotels to stay at in Southern California. If you are looking to plan a Disneyland trip, this is not that close, but they do offer bus rides there during peak season. So check with the hotel if that is something you'd like to do.
What I love about the hotel is the fact it is right across the street from the beach with its own walkway there. The hotel also has an entire kids' pool area with food, activities, water slides, and even a kid-friendly hot tub.
You can read my review here: Hyatt Regency Huntington Beach: Beachfront Getaway
Basecamp Lake Tahoe – California
Lake Tahoe is such a beautiful location. Whether you are going in the winter to play in the snow or in the summer to swim in the picturesque lake, it's a location you need to add to your bucket list if you haven't been. If your family is the outdoorsy type and likes to explore, Basecamp Lake Tahoe is definitely worth checking out.
Kids can have fun at the hotel making s'mores over a fire and feeling like they are camping indoors, while adults can enjoy the awesome outdoor beer garden.
Princess Fairmont Scottsdale – Arizona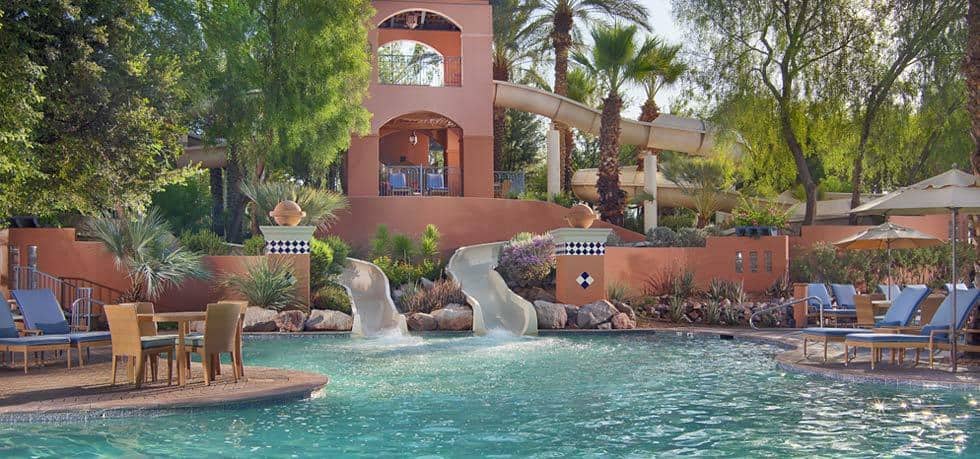 If you are looking for a hotel that has it all, look no further than this hotel in sunny Arizona. With a hotel packed with amenities and activities for kids, you are sure to have a great time and make memories your children will cherish forever. I
f your children are between the ages of 5-12, they can enjoy numerous things like the Trailblazers Family Adventure Center, Sport court, Playground, Lagoon fishing, Ping pong, Sonoran Splash featuring two 200 ft. waterslides including our after-dark, Techno waterslide featuring fog, disco lights and music (offered Friday and Saturday nights seasonally), and Dive-In movies (seasonal).
There are also children-sized robes and an amazing kids' menu that offers healthier options.
The Trailblazers Family Adventure Center is for children ages 5 to 12 (teens are welcome as junior counselors), where they can experience a day filled with interactive activities, games, crafts, and swimming. Each day of the week features a signature-themed activity, from exploring the property and its wildlife to making s'mores in their solar oven.
In the morning, kids can choose from activities, including sports, board and card games, arts and crafts, ping pong, and air hockey. The afternoon offers swimming and recreational games, ending with laughter and lasting memories.
Great Wolf Lodge – Multiple US Locations
If you're looking for a waterpark disguised as a hotel, check out Great Wolf Lodge. This is perfect for families who love water parks. It is truly a hotel made for families. No matter the weather, Great Wolf Lodge is perfect because of their indoor waterparks. So whether you want to escape the heat or the cold, head to a Great Wolf Lodge.
Morning Star Lodge Silver Mountain Resort – Kellogg, Idaho
This hotel has so much for families in both the summer and winter. In the winter, take your family skiing down the mountain or go tubing. In the summer, visit their awesome waterpark or hit the trails and explore the outdoors. Your family can also take the gondola up and check out the views from above.
The Woodlands Resort – Woodlands, TX
A family-friendly resort near Houston, Texas, is a great escape for many families. Boasting over 200 miles of hiking and biking trails that meander through the southern reaches of the East Texas Piney Woods, The Woodlands Resort is packed with things to do. n the summer months, The Woodlands Resort is alive with excitement, centering around the Forest Oasis Waterscape.
Located within a vast poolside environment surrounded by three luxurious guest room buildings, towering pines and the Panther Trail golf course, and the lush forest, the spectacular Forest Oasis Waterscape has been designed to provide a fun and refreshing experience for the entire family. Adjacent to the pool area, a signature lazy river winds through the surrounding forest.
Kid-friendly dive-in movies are shown nightly during the week of Spring Break and from Memorial Day through Labor Day in the summer.
Everyone will enjoy the Forest Oasis Waterscape's most stunning feature: A 30-foot Tower outfitted with a double-helix water slide, waterfall, and underwater marine mural open on Memorial Day through Labor Day. Kids of all ages will love racing down the slides and participating in underwater treasure hunts as they listen to the sounds of the ocean. Guests can also now enjoy our 1,005-foot lazy river as it weaves through the forest canopy.
Parents can keep an eye on little ones while lounging in the zero-grade entry pool at Puffy's Sprayground. Themed around The Woodlands' mascot, Puffy Pine Cone, the zone features a synchronized, computer-activated water experience with waterspouts and fountains.
Aulani Disney Resort –  O'ahu, Hawaii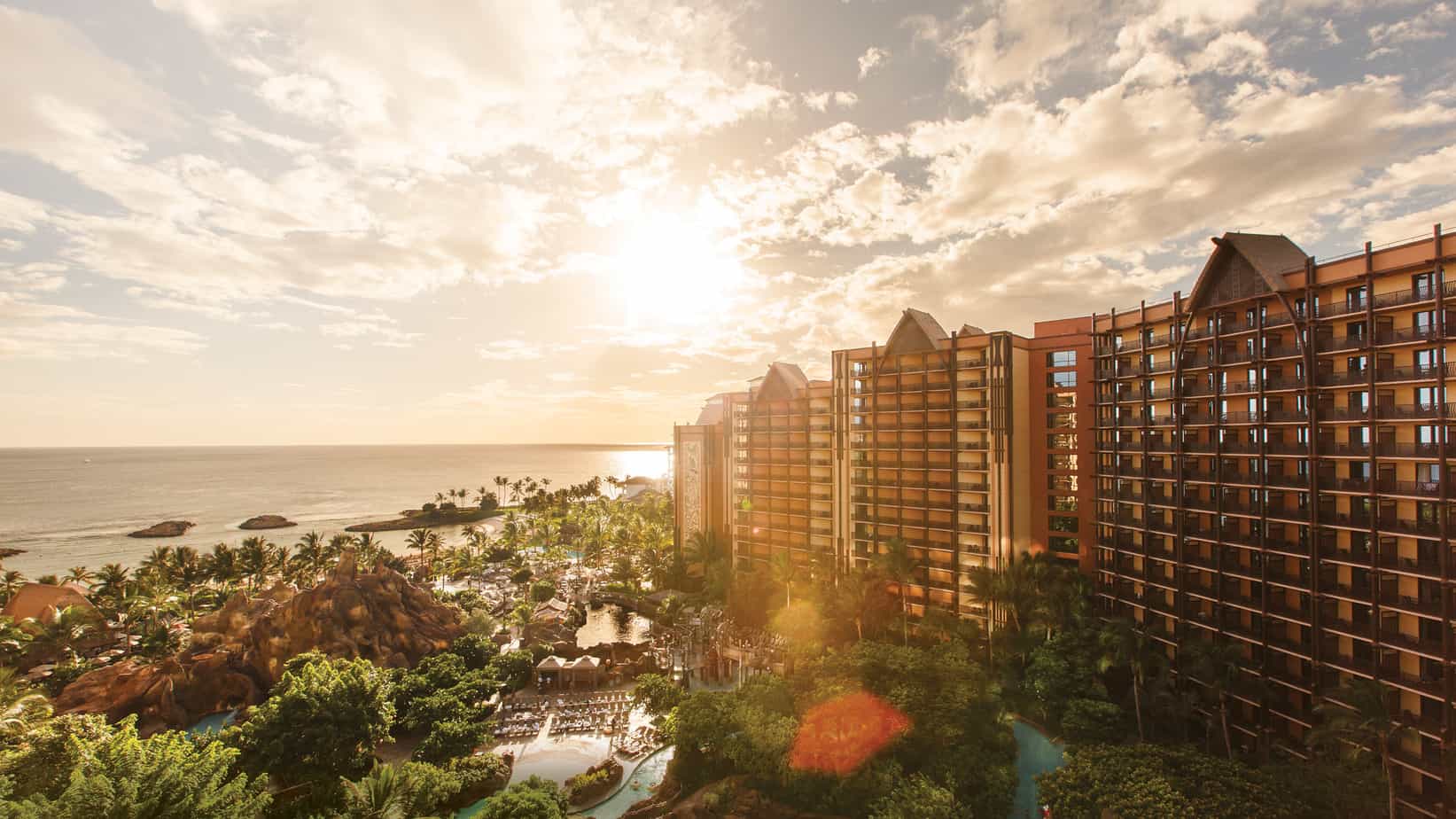 By now, I am sure you are very much aware of Aulani. This resort is one of Disney's finest, and it's in such a beautiful location in Ko Olina, a new upscale resort community. Outside of Waikiki, Aulani is the perfect location for those looking to get away from their busy life and just relax with their family.
Not only are there so many things the resort has to offer, but there is also a great swimming cove right in front of the resort that makes it safe for families to swim in. If you're lucky, you may even see some sea turtles swimming with you. Adults will love the close proximity to one of the best golf courses in Hawaii.
Portola Hotel & Spa – Monterey, CA
We love the Portola Hotel and typically stay there whenever we visit Monterey. Monterey has so much for families to do, from kayaking, playing on the beach, visiting the Dennis The Menace Park, and of course, checking out the famous Monterey Bay Aquarium.
The Portola Hotel is within walking distance of the aquarium, but you may want to bring a stroller for the younger kids. The staff is very friendly, and they even have a Pirates Program for kids ages 3-12. This program is completely complimentary, and on your first stay at the property, it includes a self-guided treasure hunt around the nautically inspired decor on the property, incorporating fun and the educational history of Monterey.
Upon each return visit to the Monterey hotel, your little Portola Pirates will earn additional benefits and surprises when they continue taking part in the Portola Pirates Program.
International:
Beaches Turks & Caicos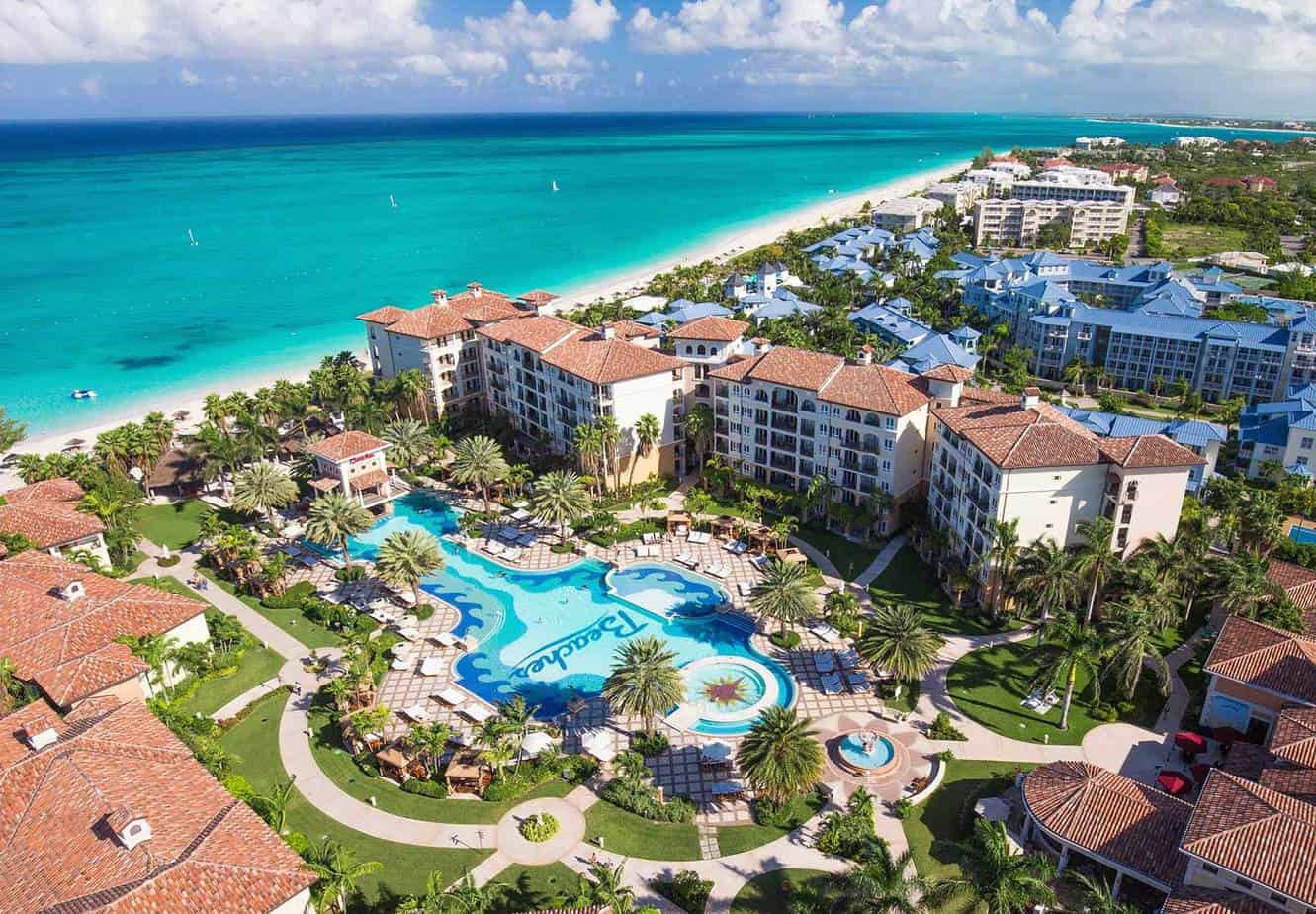 Imagine the softest sand and clear turquoise water. This is, hands down, THE best resort to take your family to. Not only is this an all-inclusive resort, meaning everything is covered in your resort price (yes… food, alcohol, drinks, water activities, and more are included), but there is seriously SO much for the entire family to do.
From entertainment, multiple pools, a lazy river, waterslides, swim-up bars where you can order cocktails, and the kids can order smoothies and incredibly delicious restaurants. There is so much to write about, so instead, just read my article on 21 Reasons You Need To Visit Beaches Turks & Caicos.
Nickelodeon Hotel & Resort – Punta Cana, Dominican Republic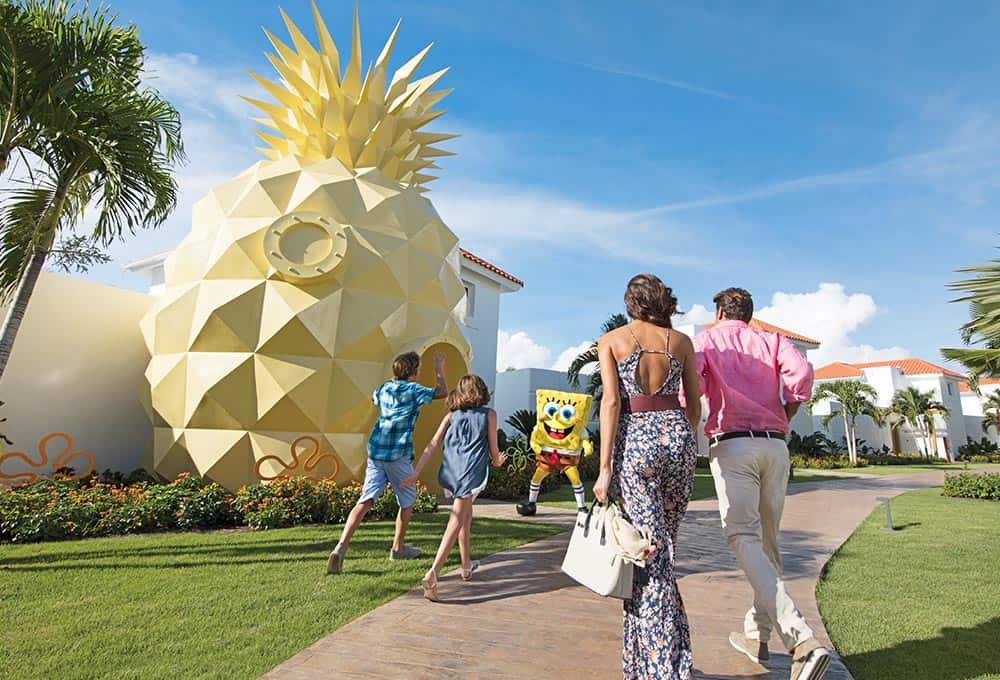 Another all-inclusive, kid-focused resort is the new Nickelodeon Resort in the Dominican Republic. From the Aqua Nick playground to the luxurious spa, they make sure that every guest has the experience of a lifetime. The first resort of its kind in the Caribbean (and the world!), this five-star vacation destination brings the spirit of infinite play to every minute of the day.
The resort features 208 oversized suites filled with comfortable amenities to cater to every taste and need. Their glamorous and spacious Swank Suites, the one-of-a-kind Pineapple Villa, and a wide variety of upscale accommodations all feature playful décor that brings out the inner kid – or the actual kid – in every guest. Personalized service is at the heart of the Karisma philosophy.
Your family (or family of choice) will never forget the colorful waterslides and pools, hanging out with their favorite Nickelodeon characters, hilarious Slimings, and the famous Karisma Gourmet Inclusive Experience!
Moon Palace – Cancun, Mexico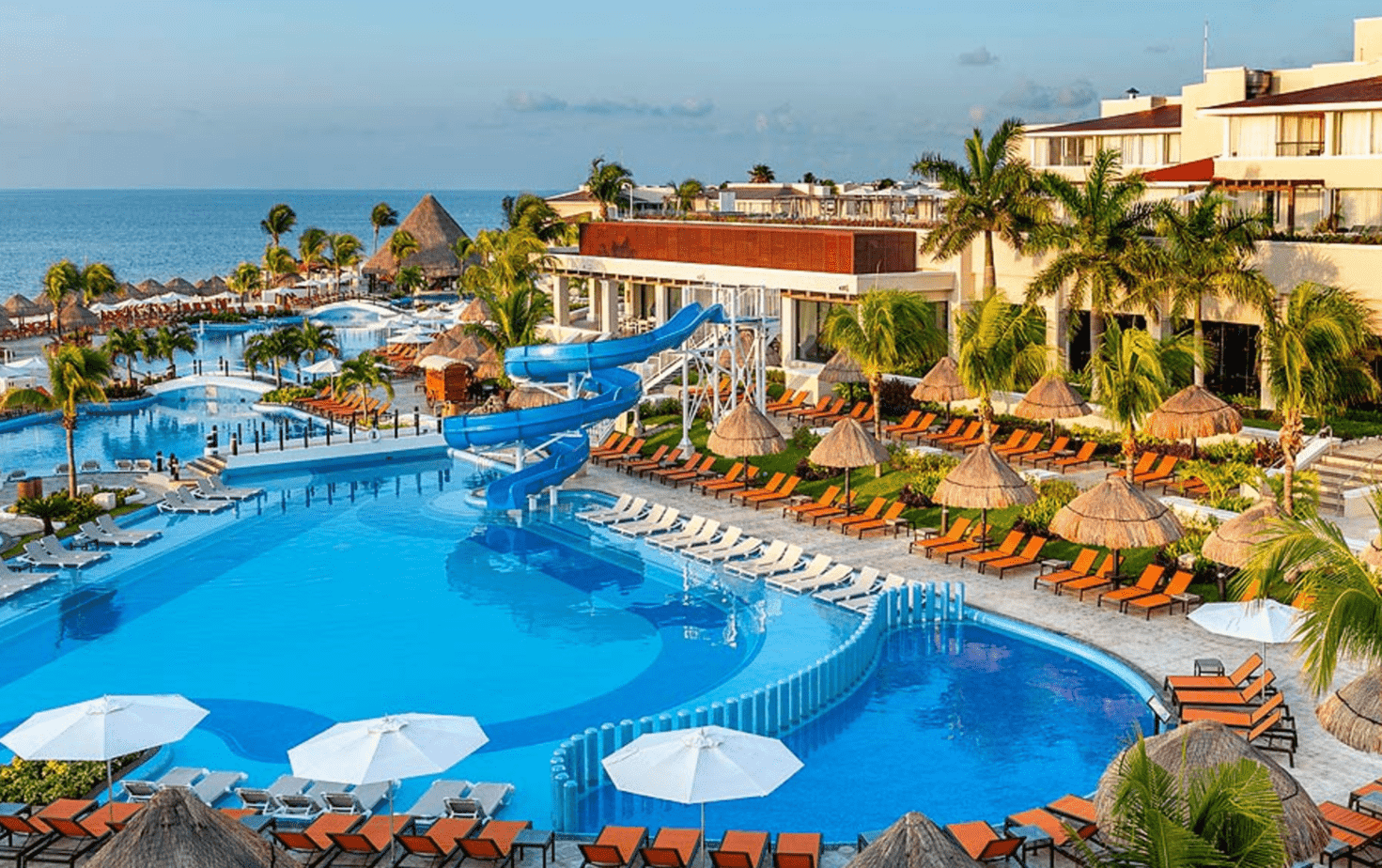 One of Mexico's popular places to visit is one of the biggest resorts I have ever visited. With multiple pools, an extremely friendly staff, tons of family activities, a fun kids club, and a beachfront, it's hard not to want to visit this resort over and over again.
One thing I loved about this resort is the fact the staff takes the time to get to know you. They remember your name after the first time meeting them, and they make it a point to say hi even if you are just walking by. There is nothing quite like the Moon Palace Cancun.
You can read my review here: Traveling to Cancun: Moon Palace Resorts.
Coconut Bay Beach Resort – St. Lucia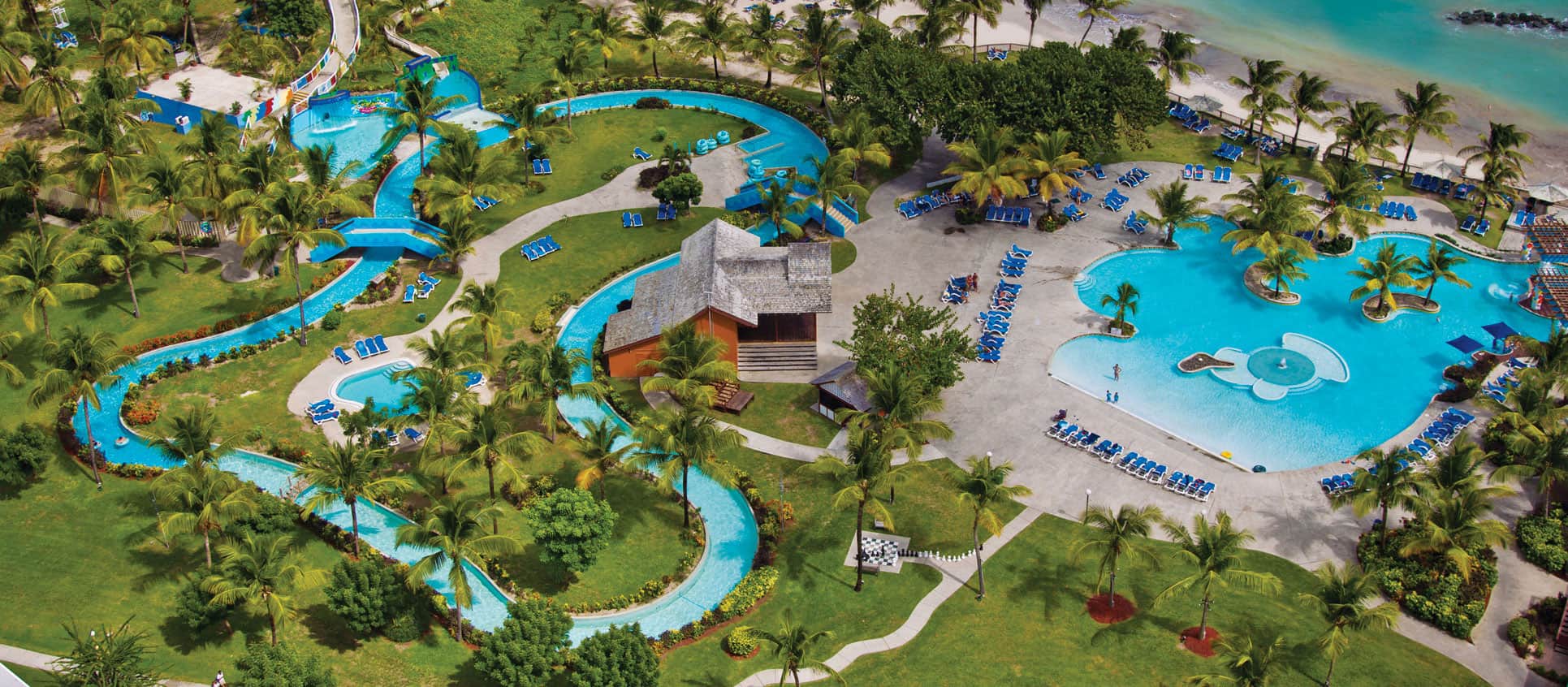 St. Lucia is on my bucket list. I would love to travel there one day with my children, and when I do, we will definitely be checking out Coconut Bay Beach Resort. The resort offers an adult-only area, but they also feature CocoLand.
With activities for kids of all ages, there is no shortage of entertainment at CocoLand. From the largest waterpark in St. Lucia to the incredibly cool (and educational) Kidz Klub, enjoy games, arts and crafts, water activities, and more!
CocoLand offers three water slides, a lazy river, and an aquatic playground that the whole family can enjoy. Additionally, their 50,000 square ft. fully supervised Kidz Klub gives kids a vacation of their own with daily activities and adventures to explore, like the mini zip line, mini rock climbing wall, Coco Corral petting zoo, and the CocoLand SCOUTS.
You're also just RIGHT next to the beautiful beach, which is always a win for this mom!
Carnival Cruise

Who says you need to stay in one spot to have fun? Why not visit a few new areas? We love taking cruises, and Carnival Cruises is the perfect cruise line to take your family on an adventure. It's affordable, it's fun, and there is a lot for children of all ages to do.
Whether you have a teen, a toddler, and school-aged child, they are bound to have the time of their lives and make new friends along the way. Many of the Carnival Cruise lines are also adding bunk bed options into their rooms and introducing family suites for families of 5.
You can check out my review on the Carnival Magic.
Atlantis Paradise Island Resort – Bahamas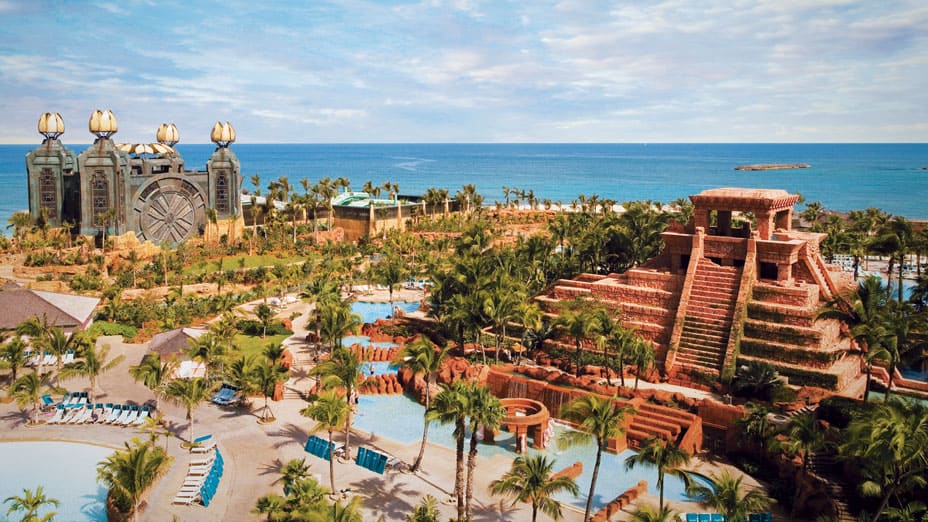 The Atlantis Resort is comparable to Disneyland. There are just so many magical things happening at the resort it's hard to imagine leaving. There are so many things for kids of ALL ages to do, as well as adults. There's even a dolphin cave, marine habitat aquaventure (which boasts 141 acres of water rides and pools), and more.
Four Seasons Resort – Nevis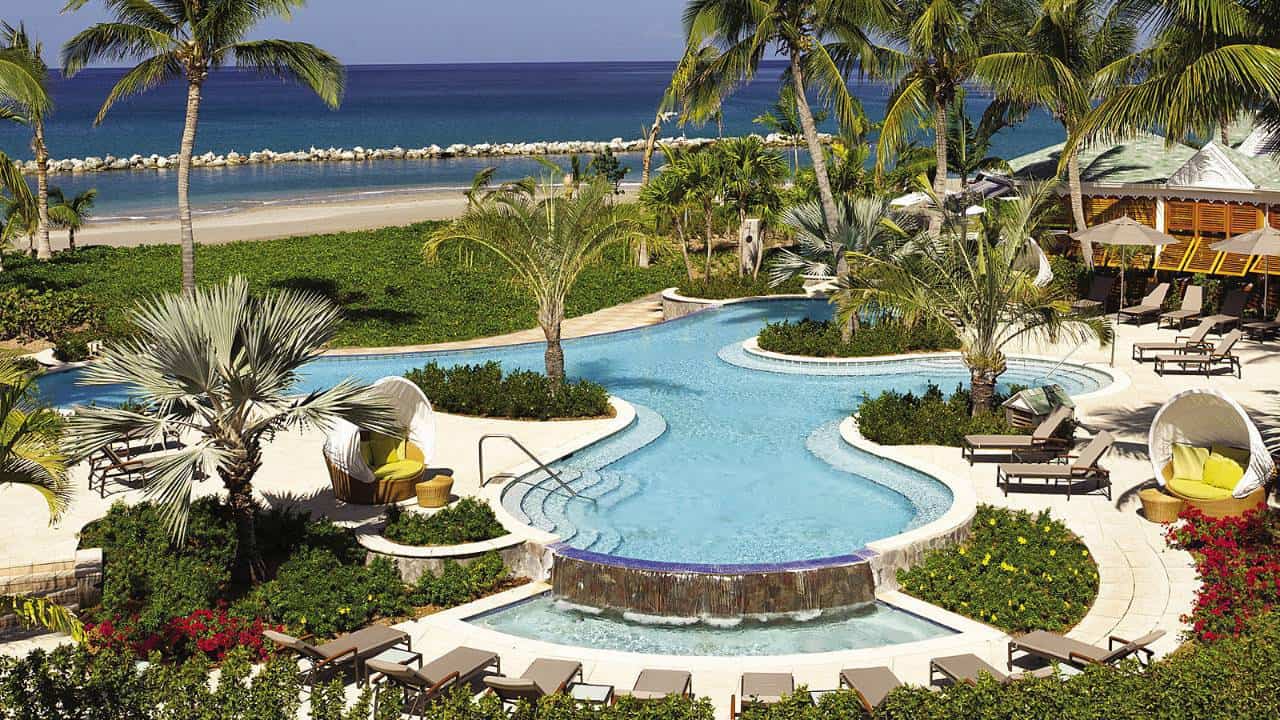 Another bucket list destination of mine is to visit this hotel. A good friend of mine went and couldn't stop raving about it. After looking into it more, I realized what a great family destination it would be. Not only is it in paradise, but there are so many great touches the kids would like.
From the child-size bathrobes to the milk and cookies upon arrival to the plush turtle toy and a turtle treat made by the resort's pastry chef, there is so much thought put in for kids. Plus, they have an awesome Kids For All Seasons program, which allows kids (3-9 and potty trained) to have supervised fun and make friends. There is also a Sea Turtle Educational Program. So fun!