Glass Stove Top Cleaner -My Natural Homemaking Hack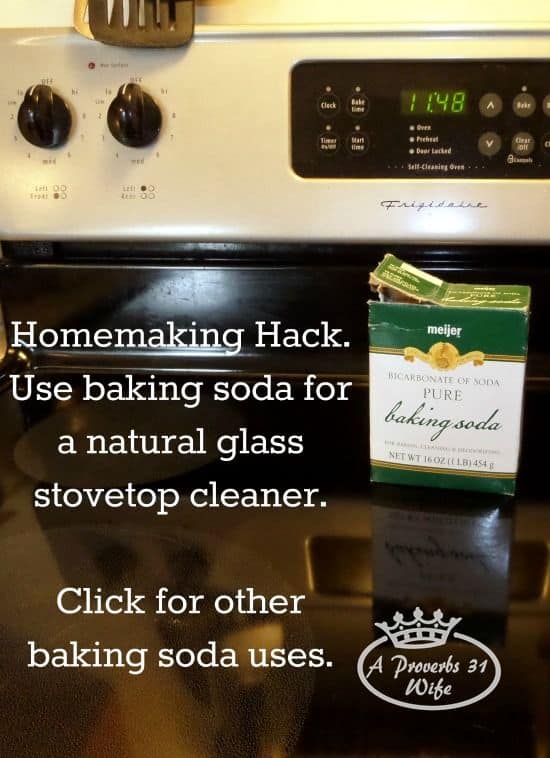 Due to chemical sensitives, I am always looking for natural cleaners. Today I'm sharing my homemaking hack for a natural, glass stove top cleaner.
It's very simple and calls for one ingredient: Baking Soda!
Baking soda is a wonderful cleaning agent. It naturally cleans, buffs and shines a glass stove top.  The photo below shows a messy stove top after a day of making and canning salsa.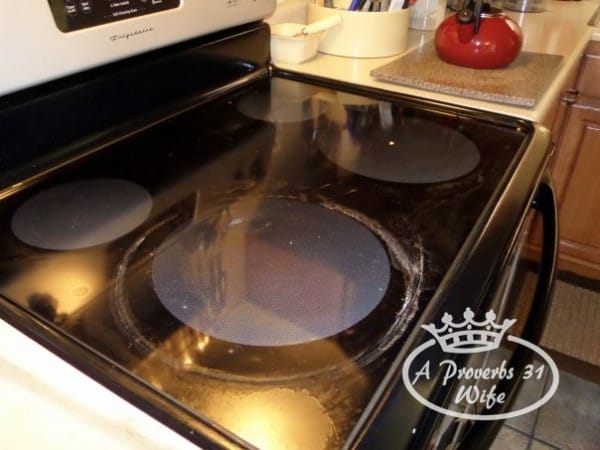 I sprinkle the baking soda on, wet a soft scrubber and start rubbing. If there are big spots of burnt on food, you can use a razor blade at a 45 degree angle to scrape it off. Other than that, a little elbow grease and baking soda will get your glass top stove shiny in no time.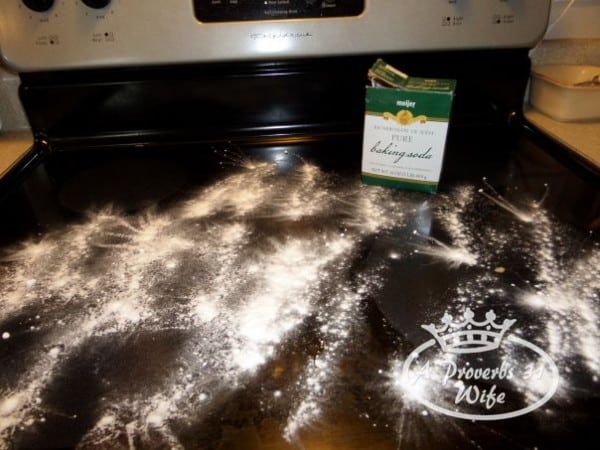 If you want to put a protector/polisher on your stove top afterwards, a little coconut oil on a flannel cloth works great. Just rub until it shines. 🙂
Or you can do like we do, and heat your homemade tortillas directly on the glass top and then before you heat a pan on it, just use a paper towel ( I use my flannel "un"paper towels) and wipe off the little bit of oil that the tortillas leave behind.  I honestly believe that little bit of oil actually helps keep spills from sticking so bad to the glass. As if the oil, seasons and conditions the glass and keeps it from being porous.
What are some other uses for baking soda?
Sweep it into your carpet with a broom then vacuum out after 30 minutes to freshen up the area. (bonus points: It also freshens your sweeper bag)
If you have small pets (rodents and birds) sprinkle baking soda in the bottom of their cage.
Use with vinegar to naturally clear out drains.
Use as a scrubbing powder to shine up pots and pans.
Use to clean your kitchen sink. (bonus points: it gets rid of that funky smell)
Pour some into stinky shoes and let sit for a week. Then vacuum it out.
Is it any wonder that I love baking soda?!
You may also like this post of uses for Baking Soda.