15 Meaningful Gratitude Activities for Kids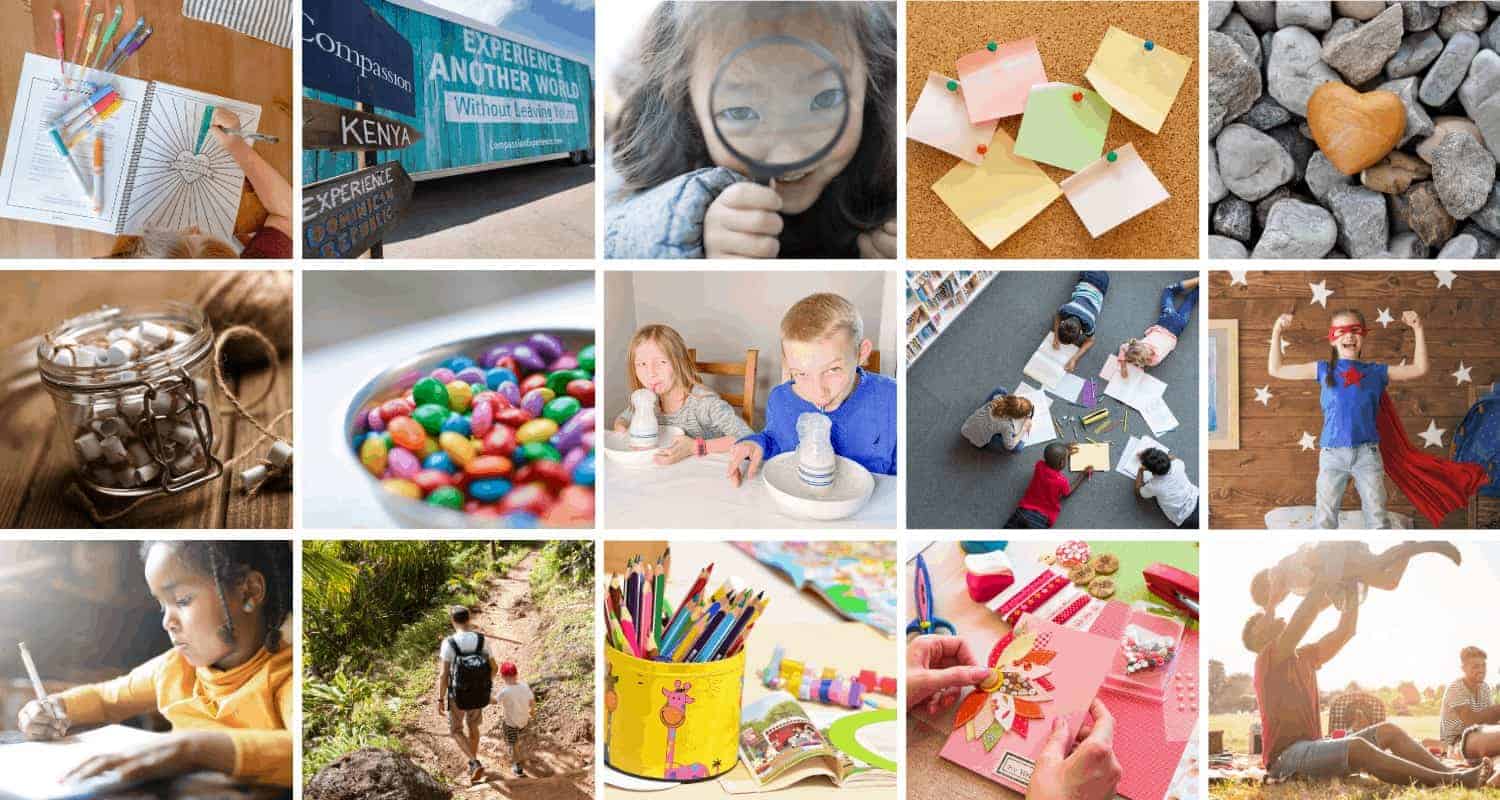 Most people think the perfect time of year to talk about gratitude is the month of November when we celebrate Thanksgiving, but I'm here to tell you that gratitude is something your kids can practice all year long.
In fact, if you want to raise a grateful child in an entitled world, gratitude needs to become an ongoing conversation and practice in your home. The question then becomes…
How do you actually get your kids to practice and express gratitude regularly without sounding like a broken record?
Fortunately, with this list of 15 meaningful gratitude activities for kids, you don't have to resort to lecturing or nagging. You can pick one or try them all and encourage your kids to have an attitude of gratitude all year round.
1. Gratitude Journal for Kids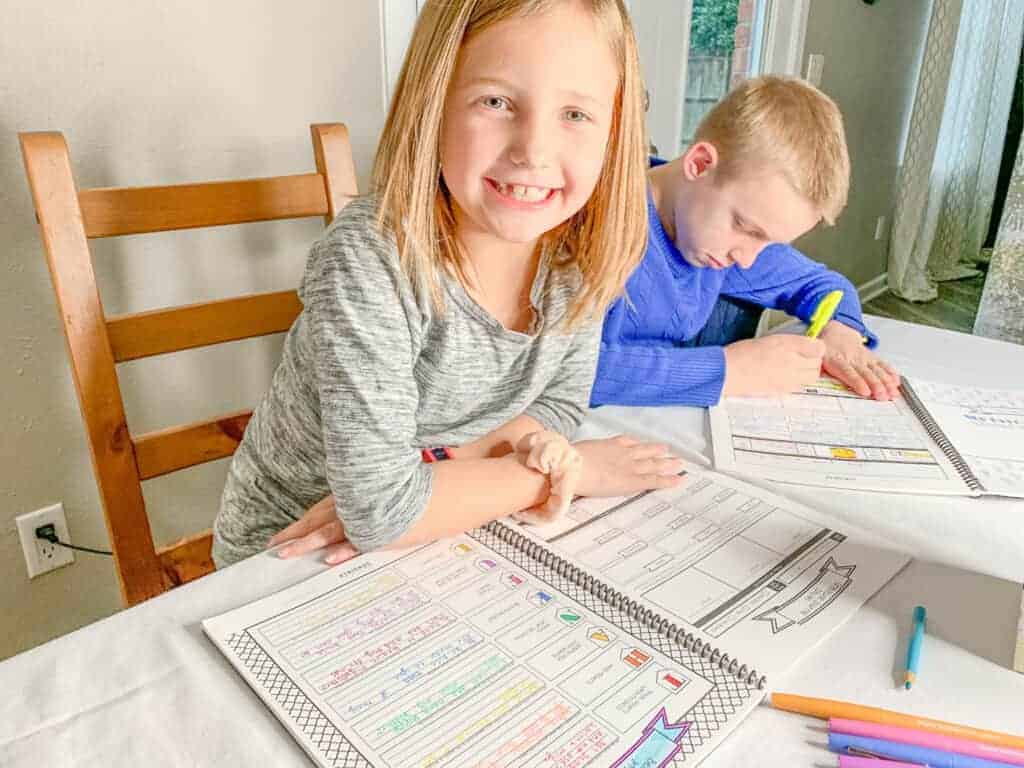 Gratitude journals are a great way to practice gratitude on a regular basis and have been scientifically proven to help children reduce materialism and entitlement while boosting generosity and gratitude.
When picking out the best journal for your child, try to avoid "shallow journals", or ones that only prompt your child to write down three things each day as there are many other dynamic ways to teach gratitude to your kids.
Also, it's worth noting that most gratitude journals promote themes of mindfulness, being a good person and being more positive. There's inherently nothing wrong with teaching your kids these concepts, but for Christians, the Bible tells us there's more to gratitude than having good manners and being a decent human being.
That's why, for Christian families, we recommend The Activity Gratitude Journal For Kids. This journal doesn't just include Biblical concepts, it was built on them. For 30-days straight your child will journal, color, draw, do random acts of kindness and complete other fun gratitude activities that include themes of thanksgiving, contentment, prayer, and serving others.
2. Find a Compassion Experience Near You
The Compassion Experience is a family-friendly immersive exhibit that allows you to experience other cultures, the realities of global poverty, and how you can change the life of a child living half a world away.
This is a traveling exhibit that is always free. If you can't go on an international mission trip yourself, this is guaranteed to shift your kids' perspectives to focus on gratitude. To find an event near you, check out their website https://cts.compassion.com/.
You can also check out this short video to learn more about it:
Also, Compassion International, the non-profit organization that hosts these exhibits, partners with Mary & Martha, to provide Bibles to children all over the world.
If you'd like to donate to Compassion's "Bibles For Children" program, you can add a donation to your Mary & Martha online order. Your gift makes it possible for children to receive age-appropriate Bibles in their own language so they can grow spiritually and learn about the incredible love of Jesus Christ.
3. Gratitude Scavenger Hunt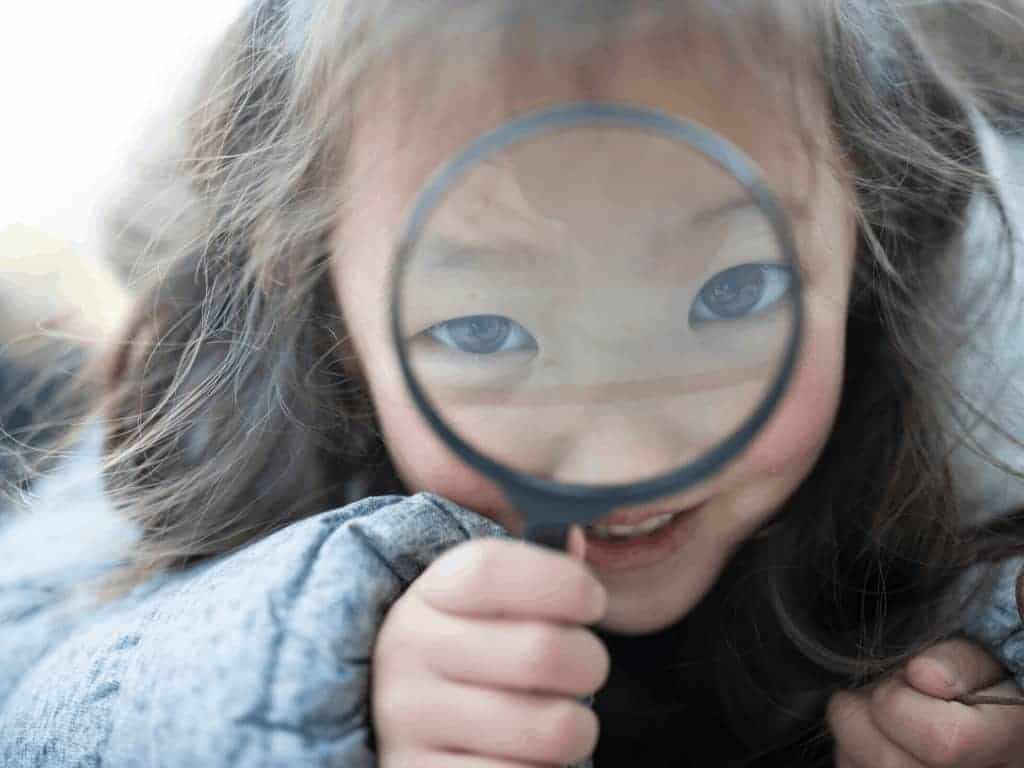 There are things all around us that we overlook and miss all of the time; a gratitude scavenger hunt is a fun way to get outside and search for things that your kids appreciate!
Grab a sheet of paper and make a list of scavenger hunt prompts, or use the two gratitude scavenger hunt pages inside of the Activity Gratitude Journal For Kids. Then go around the house, get outside, or hit the town and help your kids find a variety of people, places and things they're grateful for.
4. Family Gratitude Board
If you want gratitude to become a regular conversation in your home, you can hang up a whiteboard or chalkboard and have everyone write down one thing they're grateful for each day. Before a new month begins, take a picture of your board so you won't ever lose what you wrote down!
Alternatively, you could pin sticky notes on a corkboard. Before a new month begins, take them down and keep them so you can look back and reflect on what you wrote in the future!
5. Gratitude Stones
My friend Betty said she used gratitude stones when her kids were little. They wrote one word on each small stone and had them carry the stones in their pocket all day to serve as a reminder to them.
6. Gratitude Jar
A gratitude jar is another popular gratitude practice that many families use. Essentially, have your kids write down one thing that made them happy each day for an entire year and place their note in a designated jar.
Whenever you or your child feels down, read a few to serve as reminders of everything that's made them happy in the past. You could also read your cards out loud at dinner once a week or once a month!
7. Gratitude Candy Game
With a handful of M&Ms or Skittles, you can turn gratitude into a game! Take turns saying what you're thankful for, but using prompts per color. You can customize the prompts, but here are a few to get you started:
Red – Say one PERSON you appreciate
Orange – Say one FOOD you love to eat
Yellow – Say one PLACE you love to go
Green – Say ANYTHING you're grateful for
Blue – Say one ACTIVITY you enjoy doing
Brown – Say one THING IN NATURE you appreciate
8. Bubbling With Thankfulness Activity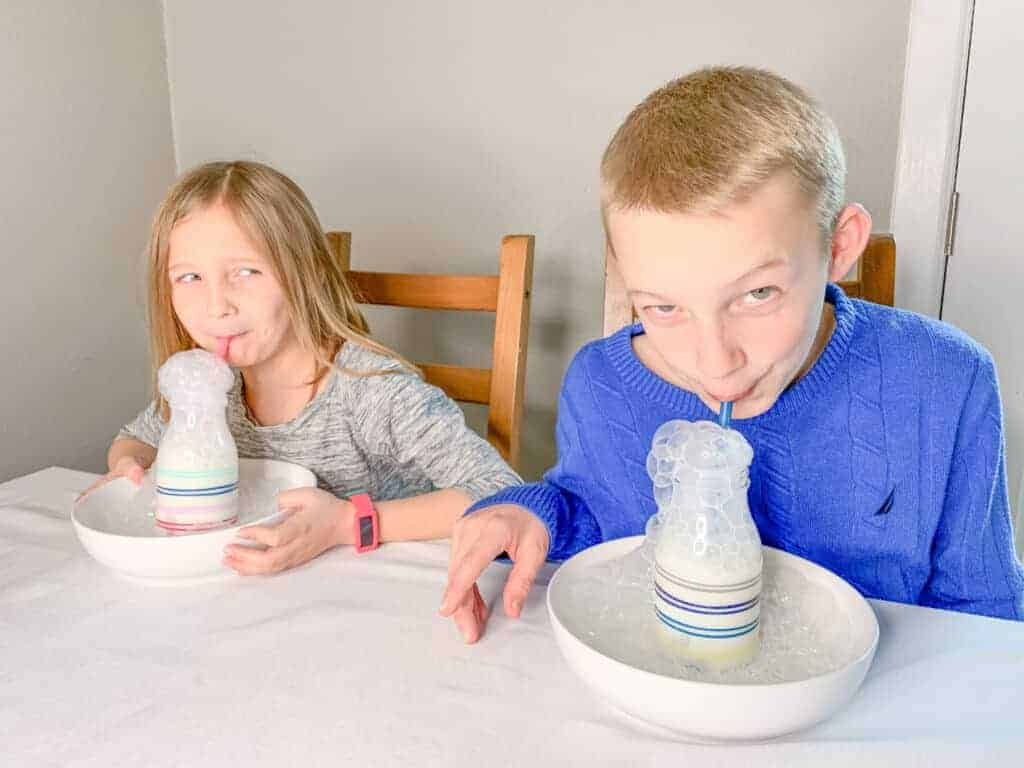 Serve your kids a glass of milk with a straw at your next meal and then read the Bible verse from Colossians 2:6–7:
"So then, just as you received Christ Jesus as Lord, continue to live your lives in him, rooted and built up in him, strengthened in the faith as you were taught, and overflowing with thankfulness."
When you're done reading the verse, have your kids blow into their straws until the milk bubbles to the top of the glass. Discuss with your kids that God wants their hearts to be so full of gratitude that it bubbles over just like the milk.
You could also read other Bible verses like Hebrews 4:12, Psalm 139:4, Luke 6:45, Ephesians 1:4, and Galatians 1:15 to show your kids that God knows their innermost thoughts. Then, you can share that their thoughts eventually spill out into their actions just like that bubbling milk.
9. Drawing Gratitude Prompts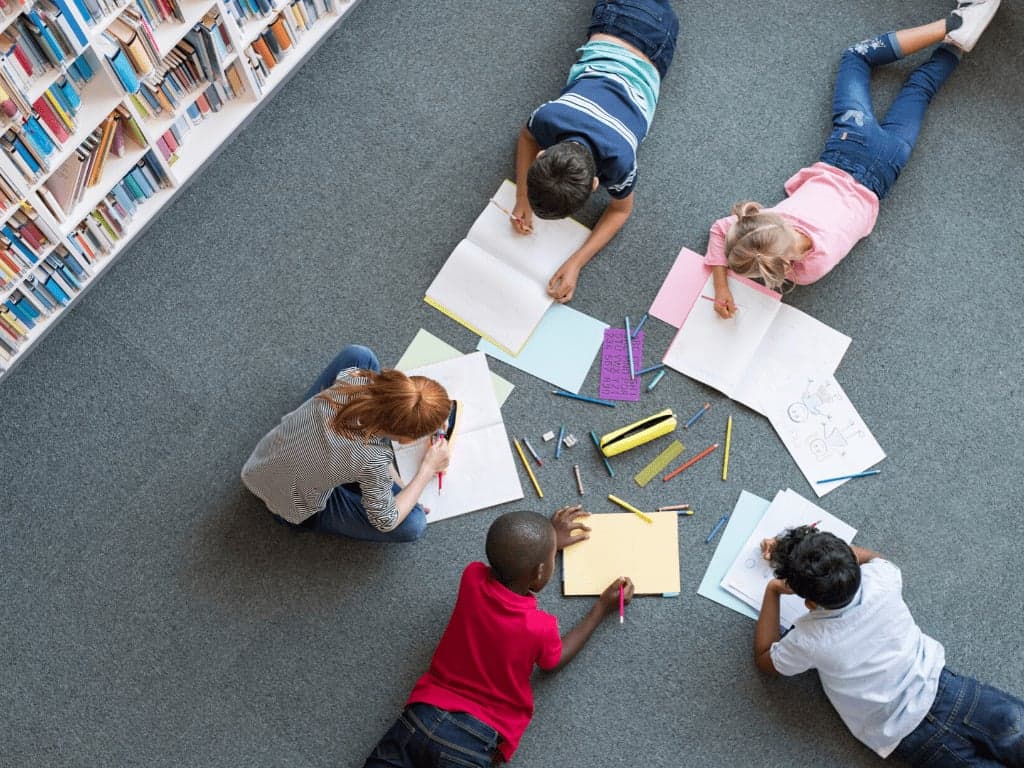 Grab a blank piece of paper and have your children draw someone or something they appreciate. Here are a few prompts you can use:
Draw something that makes you feel happy.
Draw a self-portrait and write one thing you love about yourself.
Draw a picture of one person you really appreciate.
10. Show and Tell: Gratitude Style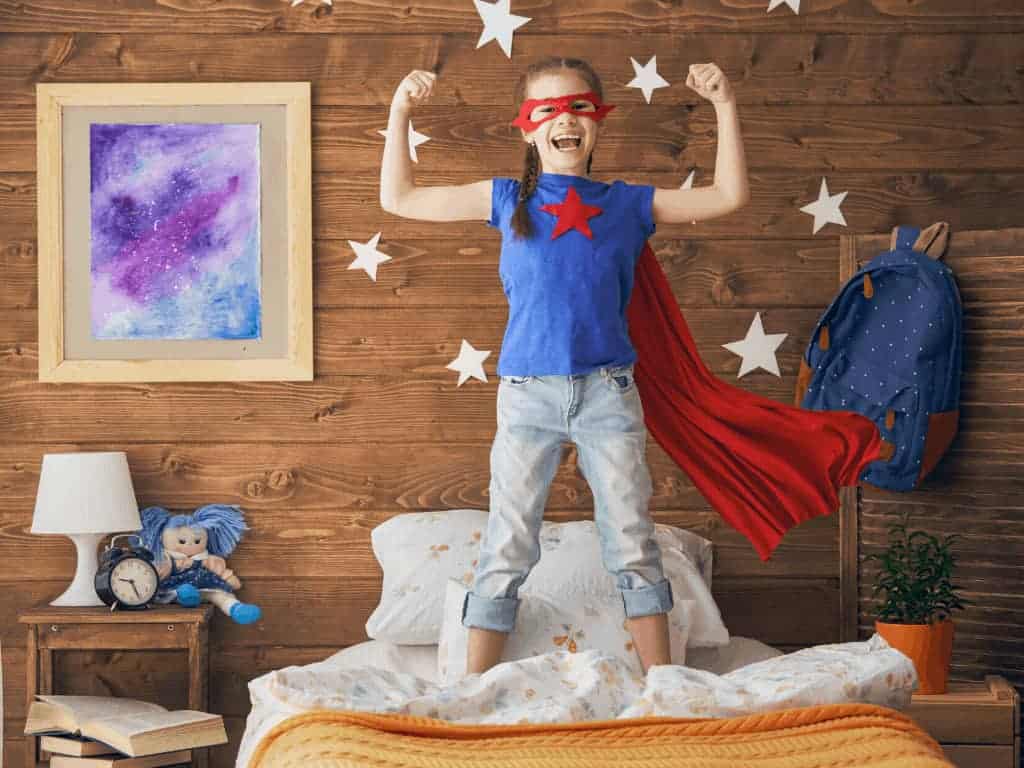 Ask your kids to put on a "show and tell" presentation at your next family game night and invite them to present a few items they're thankful. Make sure they share the reasons why they treasure the item they show you!
11. Burst of Blessings List
When your child is feeling down or really self-focused, this activity can help them fill their thoughts with positive things and transform their outlook on life.
For this exercise, grab a blank piece of paper and set a timer for 5 to 10 minutes. When the timer starts, your child will write down as many things that they can think of within that time limit. At the end of this exercise, they'll be overwhelmed with a page-full of people and things to appreciate!
12. Gratitude Kindness Notes and a \\"Thank You Box\\"
Have your child write short notes of kindness to friends in their class, friends and family, teachers, and whoever else they want to say something special to.
Alese H. said she made a "thank you box" for her 3 and 9-year-olds and I love this idea! Take a special pencil box, some colorful post-its, and sparkly gel pens and make it a habit to write special notes from your thank you box weekly!
13. Gratitude Walk
A change of scenery like going on a walk around your neighborhood or going for a hike is a great way to start feeling grateful. As you venture outdoors, ask your kids to name what they see, hear, taste, smell and touch out in nature and talk about what they appreciate about those things.
If you want your gratitude walk to be even more exciting, bring a notebook along so your kids can write or draw all of the interesting things they find.
14. Create a Gratitude Scrapbook
I don't know about you, but I'm great at taking photos but terrible at printing them out. With a monthly scrapbook, your kids will beg you to print out their photos from the previous month so they can take all of those special memories and place them into a scrapbook.
15. Play the \\"My Favorite Thing\\" Game
When you're in the car on a long road trip or walking your dog with the family, play the "my favorite thing" game! Think of something or someone and say "My favorite thing about (insert a person, place or thing) is (insert reason)."
For example:
"My favorite thing about bedtime is that we pray before we go to sleep."
"My favorite thing about Mommy is that she cooks us yummy food."
"My favorite thing about school is that we do fun crafts."
This game is easy to play anywhere on the fly and doesn't require any game pieces, but if you wanted, you could create your own game out of it. You could write a few prompts on popsicle sticks or a deck of notebook cards and add any rules you want!
Bonus: Christian Gratitude Books for Kids
Reading is another great family-friendly activity you can do any time of day. If you want a few bedtime stories or books that focus on themes of gratitude and thanksgiving, here are a few Christian gratitude books I recommend:
Your Turn
By now, you should have plenty of creative ideas that you can implement throughout the year. In fact, I want to encourage you to pick your top 12 and try one each month, because gratitude is a lifestyle, not a holiday.
Which one will you try first: the Activity Gratitude Journal for Kids, the gratitude jar or something else entirely? Let me know in the comments below!