How to Remove the Stink from Kitchen Towels
We've all been there. You open the cupboard or drawer, pull out a clean dish towel and prepare to dry dishes when you smell it. That clean dish towel you just pulled from the drawer smells horrible. Let's talk about How to Remove the Stink from Kitchen Towels.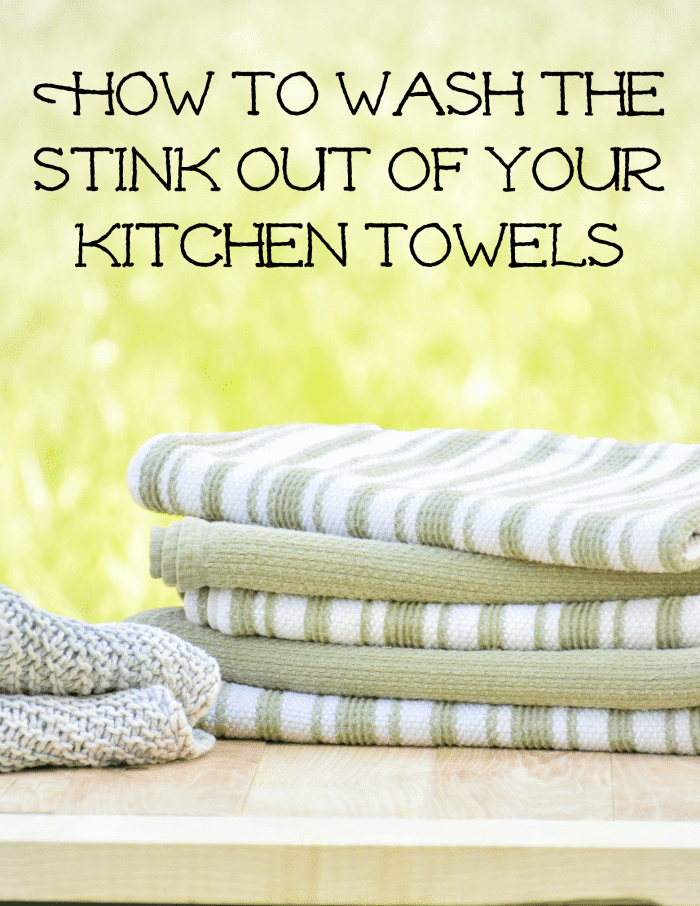 First of all, why do they stink? You are probably washing them decently frequent, your laundry soap hasn't changed, and maybe you even line-dry your towels which is supposed to help with the smell. So why? why? why?!
I'm going to use my own experience as an example. Yours may be a little different.
I have a towel laying out on my counter 90% of the time. I wash my dishes each evening and air dry them on the towel overnight. As you can imagine this towel is damp most of the time.
I also hand-dry pots and pans if I need to reuse them right away. My dishes are clean and scrubbed when I dry them, yet it is highly likely that there would be a small amount of food residue being picked up by the towel. This can grow bacteria over time.
When I switch out one towel for another, I toss the dirty towel across the rag basket and it likely falls down inside with all the other dirty rags by the time I wash them on Saturday.
And finally, your laundry detergent can actually cause buildup that is trapping the stink and smell in. Softener is really bad about doing this. Be sure to use a clean rinsing detergent that is free from dyes and scents. Use softener on towels less than once a month. My kitchen towels never get softener used on them.
Now that we've established what makes them stink, let's continue. 🙂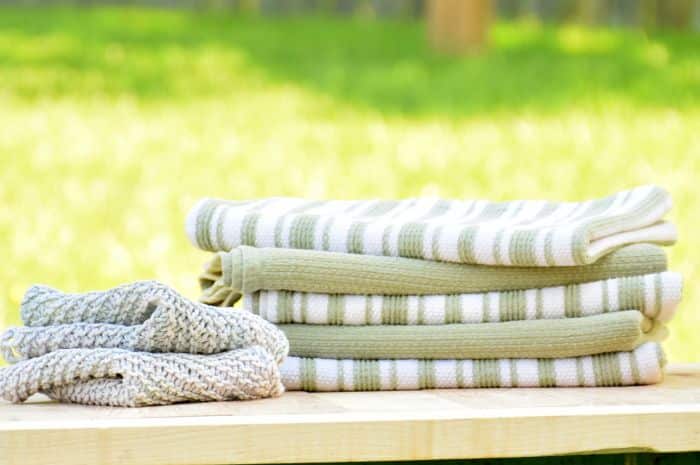 How to Remove the Stink from Kitchen Towels
*hint: this is very similar to stripping diapers. 🙂
When my towels get a nasty smell, I typically wash them all at once. Of course if you have dozens of towels you should split them into medium-sized loads. Don't want to overload the washer!
Wash towels with 1 cup of white vinegar and hot water. In this case you was the water as hot as possible. Since our heater is turned down so kids won't burn themselves, I brought a large pan of water to a boil and poured the boiling water into the washing machine with the towels.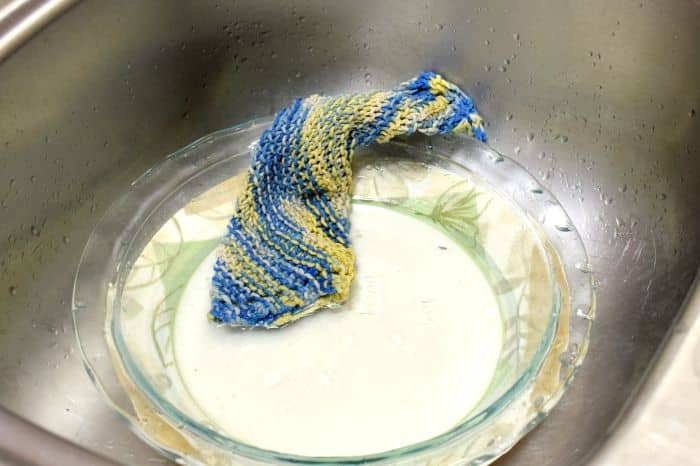 I ran the 1 hour cycle with hot water and vinegar. Then I ran a second 1 hour cycle, again with hot water but replaced the vinegar with 1/2 cup baking soda. Finally I did a shorter cycle with a hot wash.
After you run the wash cycles, either dry on high heat in the dryer, or line dry in the sun.
The result is amazing! Much of the discoloration on my towels disappeared along with the smell. Towels that were once so smelly that the trash can seemed the most logical option now smelled like roses. (No really, my clothes-line hangs beside my rose bushes!)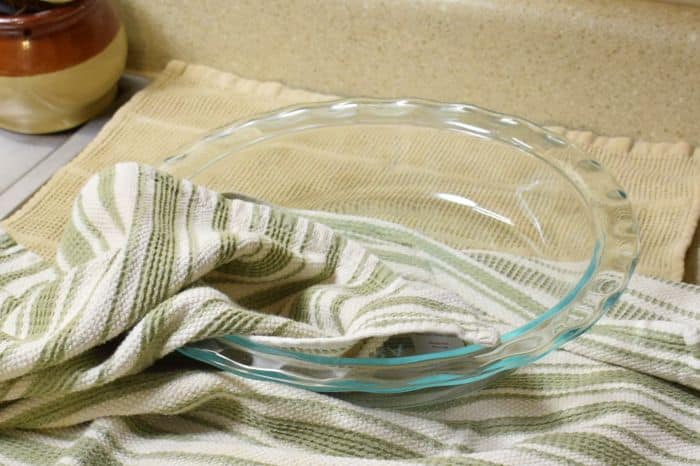 This method also works for smelly mildewy bath towels as well.
The Why: Vinegar breaks up mineral deposits from your water and dissolves the buildup. Baking soda neutralizes odors and dissolves dirt and grease.
Next time you are tempted to just toss that stanky towel into the trash, try this method and see what you think!