12 Creative Ways to Share Your Faith in Everyday Life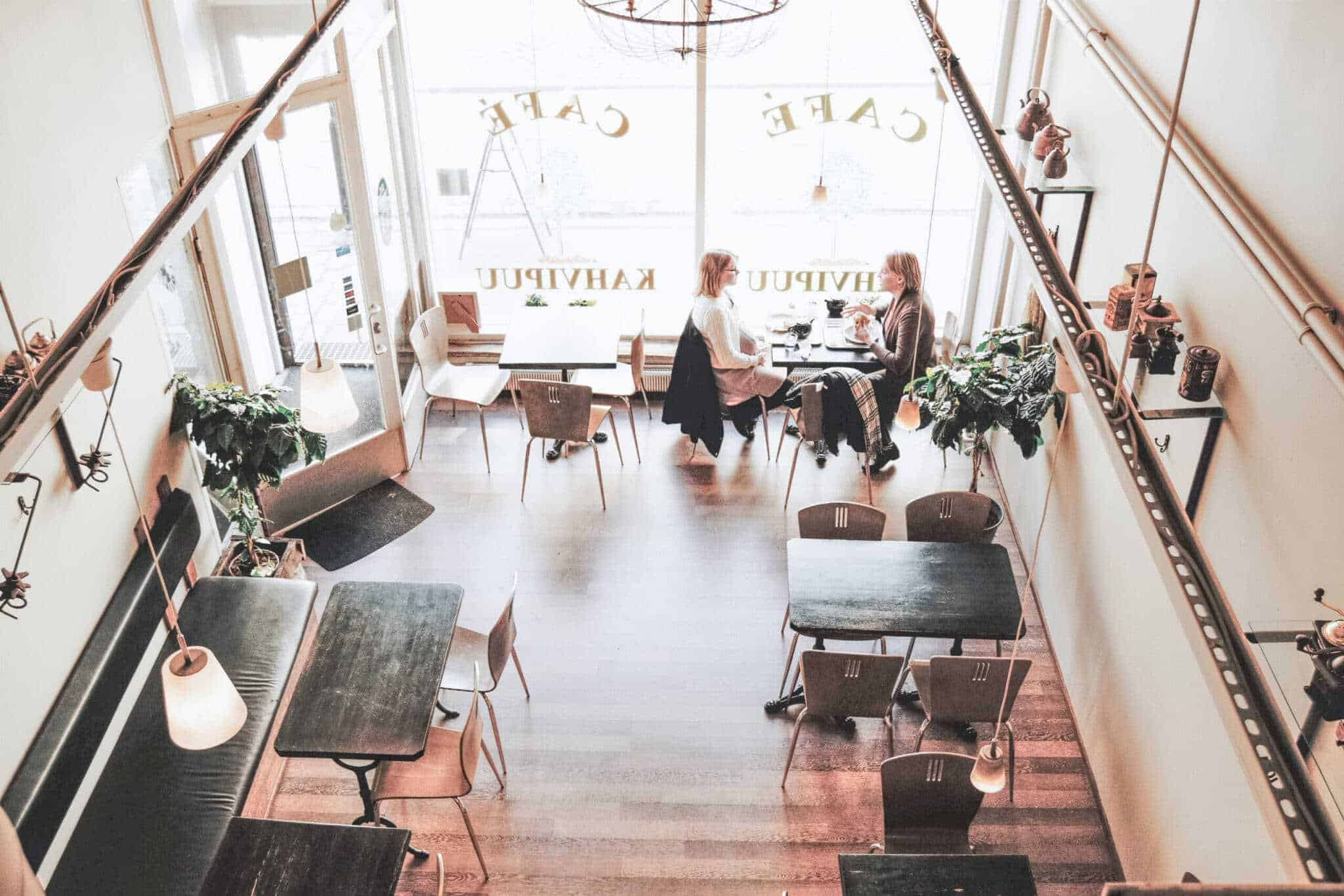 When it comes to sharing your faith with others, do you ever feel intimidated? Maybe you're not sure what to say or you're scared of people's judgments about you.
I can relate! There was a time when I, too, lacked confidence in my ability to share the gospel.
Earlier in my life, I thought that in order to share the gospel and evangelize, it was up to me to "win a soul for the kingdom". So naturally, I felt a ton of pressure because I never felt like I knew what to say and I wouldn't be able to respond Biblically when someone raised an objection to my faith.
Since then, I've let go of that expectation and now focus on "planting seeds". I rely on the Holy Spirit to guide me in building relationships and navigating conversations and encourage you to do the same.
Yes, there may be times when you'll ask someone, "if you died today, do you know where you'd spend eternity?"
But in the day-to-day hustle and bustle of life, there are many other creative ways to share your faith as you love and serve those around you. Here are my top 23 favorite ways…
Blend Faith & Business
1. Build a Faith-based business
Did you know that there are opportunities for you to earn an income (either full-time or part-time) while sharing and living out your faith?
There are Christian direct sales companies, like Mary & Martha, that empower women to supplement (or even replace) their income by sharing meaningful faith-inspired products and building up other women to do the same!
Unlike other network marketing companies, Mary & Martha gives you an opportunity to meet new people and share the eternal hope we have in Jesus by simply sharing the products. Almost every product incorporates scripture or messages of hope, so it's impossible to host a gathering (whether in person or online) without uplifting others and sharing the gospel in the process!
If you're interested in joining a sisterhood of women who genuinely love the Lord and want to share the good news of Jesus while also supporting their family financially, you should check out this post to learn more about becoming a Mary & Martha Consultant!
2. Start a Christian blog
Another way to share the gospel around the world is to start a Christian blog. With the power of the internet at your fingertips, your words and the content you share can plant seeds and transform hearts around the world in the name of Jesus.
Blogging isn't necessarily "easy" but it has been one of the most rewarding things I've ever done. I get daily emails from people around the world – France, South Africa, Canada, and the US – thanking me for the words I've written.
If you think God may be calling you to start a blog as a ministry but you don't know where to start, I recommend learning from a pro!
My blogging coach, Tracie Fobes, has a free course called the Profitable Blogging Roadmap which will help you get started.
Her coaching isn't tailored specifically to Christian blogs, but I've been able to take her strategies, apply them to my own ministry blog and skyrocket my business.
Share Your Faith Online
3. Use social media to share your Faith
Sharing uplifting and encouraging messages on social media is a simple way to share the good news about Jesus Christ. Some of my favorite subtle ways to share your faith online include:
Checking in on Facebook when you attend church
Sharing a personal story about how God is working in your life. (People crave authenticity and vulnerability, especially as it relates to navigating sin and struggles in the Christian walk!)
Sharing a nugget of wisdom from your Bible study
Sharing a faith-inspired article or video
Posting a Bible verse or Christian quote
Sharing a sermon on your newsfeed
In a post, invite them to church in person or online
I know that social media can have its downfalls, but it can also be a powerful platform that allows us Christians to let our lights shine (Matthew 5:14).
[elementor-template id="14936″]
Wear Your Faith
Without saying a single word, you can let what you wear do all the talking. At the very least, your jewelry and apparel choices can open the door and help you start conversations with others about your Christian faith!
4. Wear jewelry with a gospel-centered message
You can find timeless jewelry pieces that you can wear with almost any outfit to let your faith shine.
I recently bought this simple bar necklace that says "loved, chosen, redeemed, and forgiven on all four sides. I seriously love it so much that I bought it in silver for my mom on mother's day too!
It's special because it's a reflection of the hope and promise God gives us in Ephesians 1. When you wear a piece that's meaningful to you, it's easy to share that when someone asks what it says or gives you a compliment.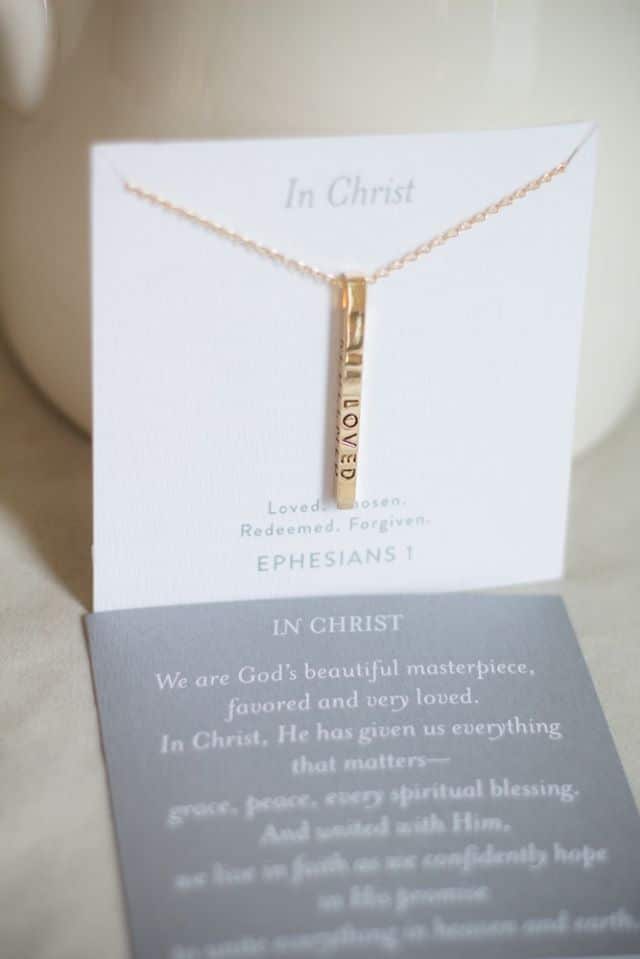 5. Wear a Christian t-shirt around town
T-shirts are another easy way to share your faith as you galavant around town. They're so versatile, too!
You can dress them up or down depending on your plans. My favorite place to find Christian tees is at DaySpring!
Share Your Faith in Your Home & Neighborhood
6. Host a bible study in your home
Another simple way to share your faith is by hosting a Bible Study in your home with a few friends or neighbors.
Simply pick a book of the Bible or choose a daily devotional to read together. Then, set a weekly meeting time to discuss what you've been reading and how it points to the cross; it can be that easy!
7. Host a movie night
If hosting a weekly Bible Study sounds intimidating, how about hosting a fun movie night? Invite your friends, put out the popcorn and snacks, and play a family-friendly, faith-based movie.
You can stream Christian movies like "God's Not Dead", or "Gifted Hands" on Pureflix or you can rent movies and documentaries like American Gospel: Christ Alone on Amazon Prime.
Movies that have Christian themes make great conversation starters making it easier to follow up with some probing questions at the end. Just remember, your role for the evening is to love and serve your guests, plant seeds and speak truth as the Holy Spirit leads you.
8. Display Christian decor throughout your home
While you have guests in your home, you can also let your home decor help with your witness. Your guests may notice the scriptural details in your wall art, the plump throw pillows, and the serving bowls at dinner.
Of course, if you don't have these decorative pieces, don't let that stop you from gathering with friends in your home.
However, if you want to add some heartfelt pieces in your home, Mary & Martha has a great collection of meaningful home decor pieces that allow you to highlight your faith.
9. Set your home WiFi network to a Name that points people to Jesus
This one might be my favorite tip of them all. It's so clever and a great way to share the message of the cross with your neighbors or guests who want to use your internet.
Some fun gospel related wifi names include:
John 316
Jesus Died For You
Y'all Need Jesus
Jesus Is King
Jesus and Coffee
Repent and Believe
If you do set your home wifi name, be prepared — some of your neighbors may name their WiFi network to oppose your gospel message.
Share Your Faith With Your Friends & Family
10. Send a hand-written letter
The Apostle Paul wrote handwritten letters to the early churches as a way to encourage and lift them up in the faith. We can do the same with our Christian friends and community of unbelievers!
Spend time writing and sending a handwritten note this week to someone who could use a word of encouragement.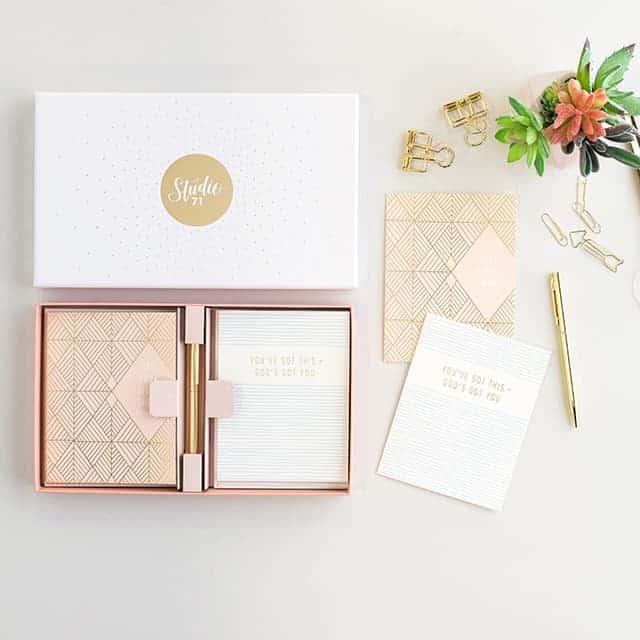 Any ole' paper will do, but if you can, use stationery that points them back to God or includes scripture from God's word.
I love this set by Studio 71 that says "You've Got This – God's Got You"! So cute, right?
11. Make a meal & deliver it to a friend
Another practical way to share your faith is to make a meal for a friend in need and deliver it to them.
When someone has a baby, gets sick or there's been a death in the family, it is such a blessing to share in the burden of having to worry about what's for dinner.
If you want to coordinate a community-wide meal delivery, you could use websites like Sign Up Genius, Meal Train, or Give In Kind to make it easier on both those preparing the meal and the individual or family receiving them.
If you're delivering a single meal out of the goodness of your own heart, you can keep your dish hot during transport with this Made With Love Casserole Carrier.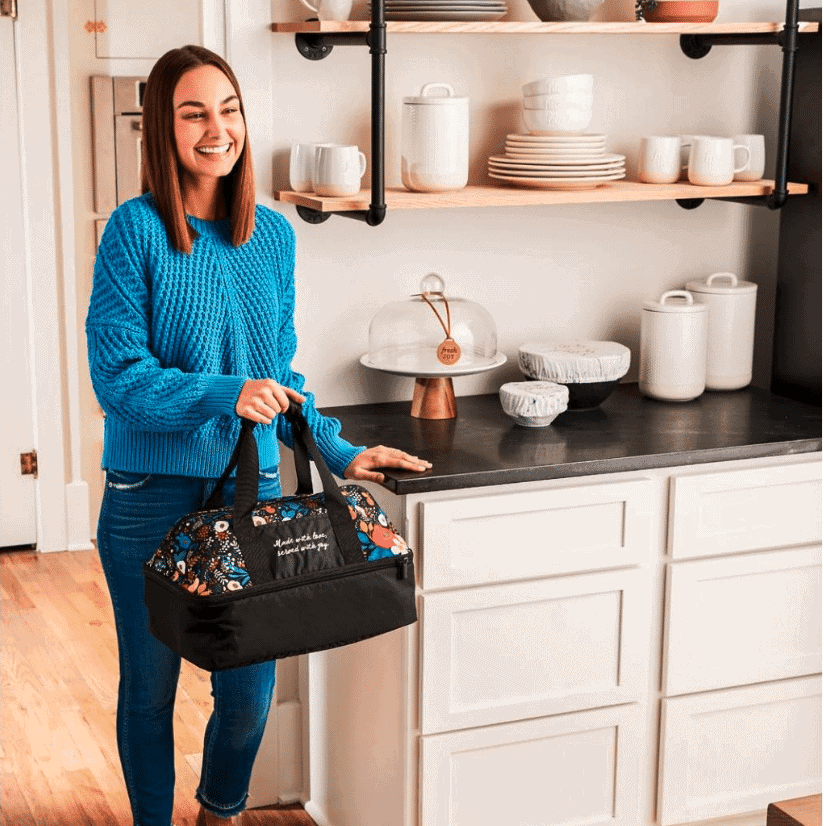 12. Give Faith-Inspired Gifts
Birthdays, anniversaries, and Christmas are a great time to shower your friends and family with gifts that point back to faith in Jesus.
You can give something as simple as a card with a Bible verse to a monthly subscription box (like Faithbox) that keeps on giving long after the occasion has passed.
If you need even more gift ideas, check out these 109 Unique Christian Gifts For Women; I'm sure you'll find a meaningful gift that will honor, empower and equip her as a woman of faith.
Your Turn
What are some other creative ways that you've been able to share your faith? Let me know in the comments below!