How to Get Rid of Washer Stink – Front Loader Mold
I knew when I bought my front loader washing machine that I would likely have issues with mold and stink. But I love how well they clean huge loads (as long as they don't stink) so chose one anyway.
It was a repo when I bought it (not new but less than a year old), still very nice and given that I prefer to buy used over new to save money, the $250 price tag was awesome!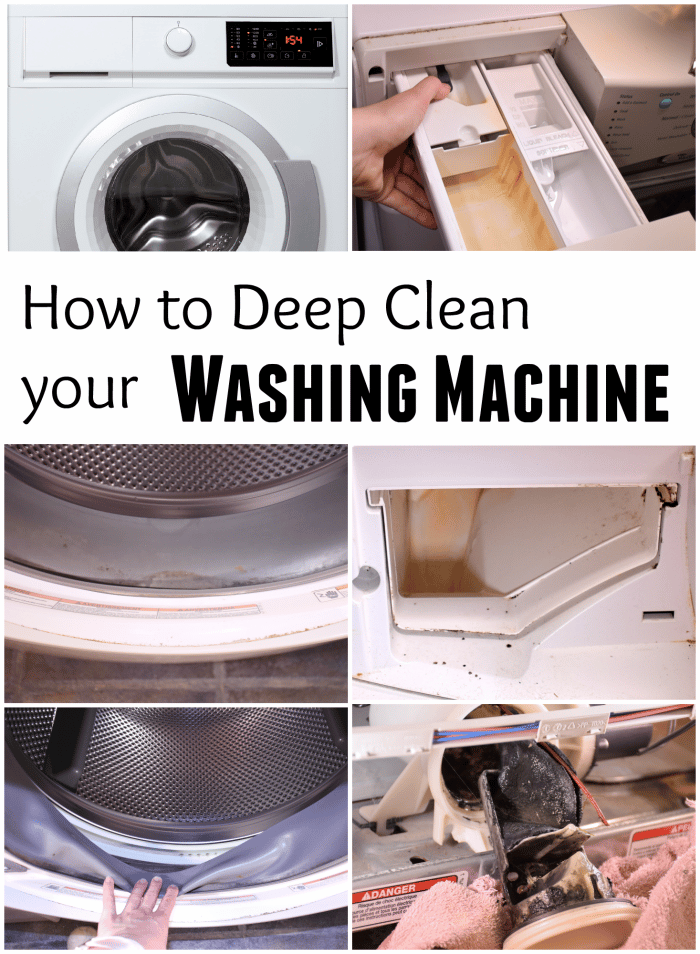 A front loading washer needs bi-weekly cleanings (or monthly in my case) to keep it clean and mold gone. Not a hard thing to do and typically it completely takes care of the smell.
But lately my washer stunk every single time I ran it. The door was clean, the seal was clean, and I had even ran straight bleach through my washer which is something I hate to use.
It left my clothes smelling funky too and only line-drying would take that smell out. Which I try to do anyway since it saves me money to line-dry, but all the same I didn't like that smell!
No matter what I did to clean my front loading washer, it still smelled awful!
My washer smelled the worst when it was draining so I suspicioned that the hoses had some sort of build up in them. While I was considering the possibility of dirty hoses I remembered something.
A couple of years ago I replaced my washer's water pump and made an interesting discovery. Perhaps that was the missing link here. Keep reading to find out.
How to Get Rid of Washer Stink
The very first thing you should do to help get rid of that smell in your washer is to clean it. Take 5-10 minutes a couple of times a month and perform the following tasks.
You will need
White Vinegar
Cleansing essential oil of choice (optional) thieves is my choice.
Rags
Small scrub brush or toothbrush.
Mix the vinegar 50/50 with water and add a few drops of your oil. If you like exact measurements, 1 cup vinegar, 1 cup water and 20 drops of oil is about what I do. (I also make thieves wipes)
Pull out your soap dispenser and scrub it down good in your kitchen sink.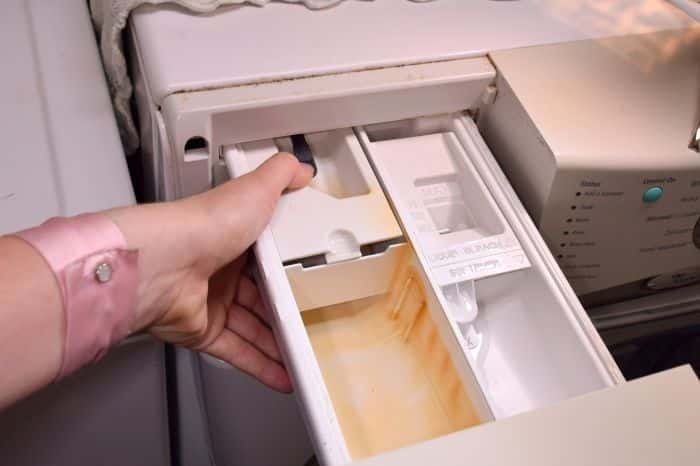 Next use the scrub brush to clean the area where the soap dispenser goes. I haven't been real good about cleaning that part of my front loading washer and was really surprised at the amount of mold I found there.
All those black spots are mold. Depending on the soap you use, you may need to really scrub at the soap scum. I bought my machine used and there was a lot of soap scum. I actually used my natural shower cleaner (I think it works better than vinegar) to get rid of that.
Clean the rubber seal.
That rubber seal is the main culprit when you have a stinky washing machine. clean the entire thing, being sure to pull it away from the drum and clean down in there.
While you are doing this, make sure to wipe down the door too.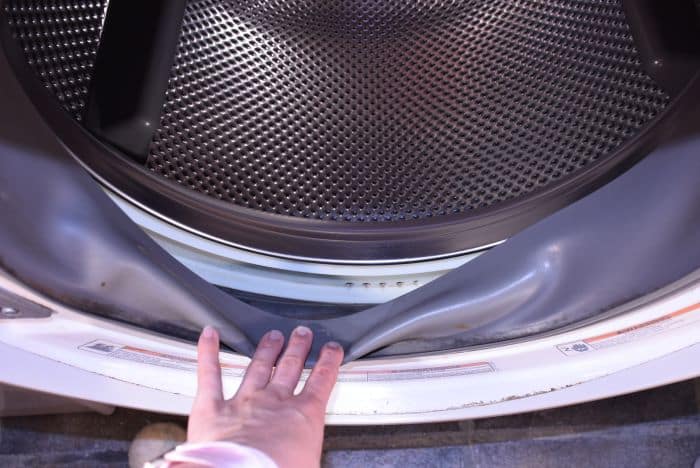 Doing this a couple of times a month will keep the mold and smell away.
However, there could be another problem. Even though my machine was shining inside and out, the entire laundry room stank when I washed clothes.
That's when I remembered the lint trap.
That's right. Did you know your washing machine has a lint trap? It does, and it's pretty easy to clean.
Get Rid of Washer Stink by Cleaning your Lint Trap
Not all washing machines have a lint trap, my mom's Maytag Neptune doesn't. However most of them do.
My washing machine has a lower panel that comes off by removing three bolts at the bottom, this reveals the lint trap, water pump and a few other things. A Google search has revealed that many machines have this.
Other machines have an even smaller panel that opens to reveal just the lint trap. Chances are, if your machine has this little panel, you already know about it. 🙂
Once I removed the lower panel, this is what I saw.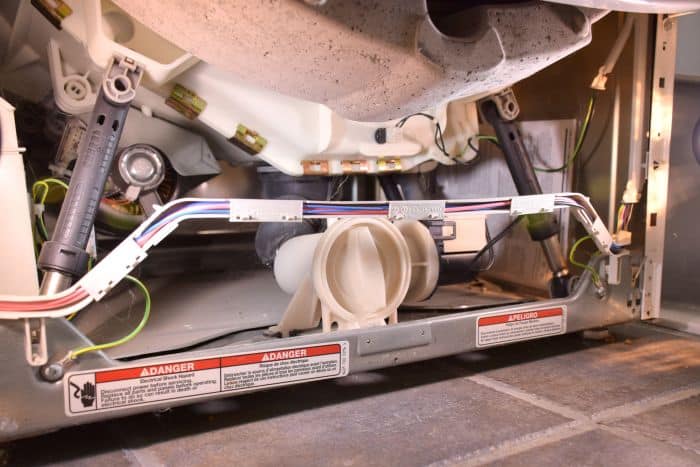 Right there front and center is the lint trap. Don't open it just yet! There is a lot of nasty stinky water hanging out there and you need a tray to catch it or a wet vac. I used a wet vac and opened the lint trap slowly to allow the vac to catch all of the water.
When I opened it, this is what I found.
All together now, YECK-BLECK-NASTY!
You can see the nasty, but you cannot smell the nasty. Which is quite fortunate, because it STUNK!
Clean that sucker off and scrub it good with vinegar. Be sure to clean inside where the trap goes as well. If you find a sock or two in there just throw them away, trust me, the stink is in them to stay!
Once I cleaned that lint trap the smell was completely gone!
Once again my washing machine is stink free!
Did you know about lint traps?