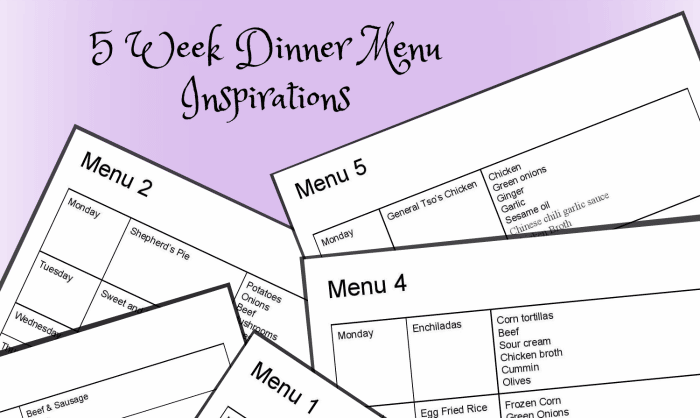 When I "shopped my pantry" for a few weeks, one of my goals was to create weekly dinner menu ideas that I could use in a pinch.
I still love my menu board but planning it out each time became a challenge and I quit doing it. Sometimes I have freezer meals from a big freezer cooking day (which reminds me, I need to do that again soon), and sometimes I have a meal in particular I wish to make with the purpose of sharing the recipe here.
With all those variables, it's no wonder I quit planning menus and went back to the old "buy what's on sale and try to figure out what to make with it, which resulted in a quick run back to the store for missing ing. where I picked up more sale items" routine. No wonder we were overspending the grocery budget!
Creating my weekly dinner menu ideas
I went into Google docs and created a list of our favorite meals. Most of these are meals I try to make once a month or so. I then separated the meals by cuisine and then into weekly menus.
I only plan dinner. Breakfasts consist of oatmeal in some form or cold cereal. Both of which I buy once a month at Sam's Club.
Since Kolton and I are the only ones who eat lunch here, it's a simple affair. Fried eggs, liver, oyster soup, leftovers from the night before, and peanut butter sandwiches are our typical lunches. Jason always packs a lunch with tortilla wraps and other items that I typically pick up on my monthly Aldi visit.
That leave the meal planning for dinner time. As our family grows, my system will of course need to change. But right now I'm just enjoying the simplicity of it!
In the right column I listed the main ing. of each dish. This way I am able at a glance to see just what things to check my pantry for and add to the list. Other things like spices etc are automatically added to my shopping list when they get low. 
5 Weekly Dinner Menu Ideas
I'm surprised at how few of the recipes above have been shared here! Looks like I need to start sharing a few more. 🙂 Below are links to the ones found here.
My favorite thing about these menus is the simplicity of it all. I list 5ish meals that I want to fix that week and then make sure I have the ingredients on hand. Then I can make the meals on whichever night I choose! 
One night a week I can fix whatever is in my head that sounds good, so I listed each Sunday as "chef's choice". 
Since I'm printing the menus out to post, making a few changes isn't hard at all. Once I have meals back in the freezer, it won't be hard at all to change a few of the meals to freezer meals!
I plan to continue posting the menus on my menu board since it conveniently holds both menu, pen and shopping list. I like seeing that I can evolve my meal planning to suit our family without making huge changes!
Tell me, how do you plan your meals? Do my weekly dinner menu ideas give you inspiration to simplify  your meal planning process?